The new Olympic cycle has already started at the Águilas de la Montana table tennis club in Utuado, where the usual protagonists work towards the events that lead to Paris 2024.
The protagonists referred to are the Olympians Adriana and Melanie Díaz, and Brian Afanador. Other members of the national teams also work with them, including Daniel González and Daniely Ríos, as well as other prospects such as Fabiola Díaz, Adriana and Melanie's younger sister, among other talents.
Looking for changes in the physique of its players, the coach of the women's team, Bladimir Díaz, joined the team with two additional professionals: coach Carlos Guzmán and dietician Carmen Nevárez. Guzmán will work on getting agility and strength out of the tennis players, and Nevárez on nutrition.
Díaz said the time has come to turn to sports science so that everyone, especially Adriana and Melanie, 20 and 25, can go up another level.
"As you keep climbing, the details are harder to see. In table tennis, I can go deep, but physical training can't, "said the coach.
Guzmán and Nevárez will also work with González,
Ríos, Derek Valentín and Fabiola Díaz, who at the age of 18 has decided to follow the benchmark of her sisters to grow in sport.
The first events of the cycle in which tennis players will see action are the Pan American Championship to be held in Utah, followed by the World Championship based in Houston. Both are in November. Bladimir said they are waiting for confirmation at two WTT events that they would play in Europe before the two events in the United States.
"I am crazy to compete to see how we are doing," he said.
In the United States and in WTT competitions there will also be Afanador, who has been working hard to close 2021 solidly and start the new cycle well.
"We are going to take this weekend off because we have not stopped. We are going to the final stage for those four competitions ", specified his coach and father, Eladio Afanador. "We are in a lot of service, a lot of reception, first and second ball, aimed at what a game is because we are in fitness and physical condition."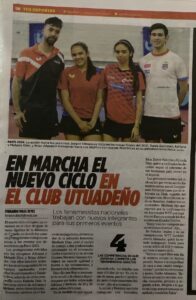 Stay "In The Loop" with Butterfly professional table tennis equipment, table tennis news, table tennis technology, tournament results, and We Are Butterfly players, coaches, clubs and more.