Ask the Experts
TABLE TENNIS QUESTIONS ANSWERED BY BUTTERFLY COACHES
Confused about a table tennis technique or equipment? Not sure what Spring Sponge, medium feel and different sponge thicknesses will offer? Then use the form below to contact the Experts. We will give you a user-friendly way of understanding what the equipment is and how it can maximize your skills as a player. Since each player and their equipment are different. Please complete the fields in the form below. If you want to record your question and upload it to YouTube, please add the YouTube video link in the form below.
Ask The Experts
Ask The Experts: Jinxin Wang, #182Butterfly Table Tennis Question and Answer
Featured Question
October 26, 2018
Blade: BalsaCarbo X5Forehand Rubber: Tenergy 80
Backhand Rubber: Rozena
Question: I am an intermediate player and play near the table. I play all shots mostly go for the kill with drive and smash with full swing of the bat. I do play with full arm swing and body movement when i hit these smash. I can pick the ball that are even low and still hit drive. I have always played with preassembled bats but have found their weakness in tournaments when i get pushed away from table with good players with high quality bats as they take my smashes as i get very less time to recover from my shot. So i want to get a assembled one high quality bat that enables me to play near and far from table as well as allow me to hit my smash with high bat swings. please let me know if Tenergy will be suitable or will it be uncontrollable. are tenergy only meant for people with reduced bat swings ? Please advice.
If i should not use Tenergy , can i pair Rozena kind of spring sponge rubber on FH and have normal rubber on BH ?
If i can use tenergy and rozena combination please advice what is best for FH and BH.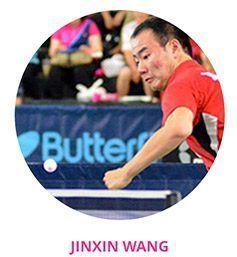 Answer:
Hi Siv,
I have used a Butterfly blade for over fifteen years and Tenergy for ten years. I am currently using Tenergy on both my forehand and backhand, and I believe Tenergy suits a wide variety of styles. Tenergy grips the ball very well and its smashes have more power and sudden explosiveness. I would recommend using Tenergy 05 on your forehand and Tenergy 05 FX on your backhand because the 05 FX allows the backhand to have better control, consistency, and both spin and hit.
First, I would suggest using equipment more suitable for the 40+ mm generation, and I strongly believe Butterfly equipment is a leading brand in the 40+ generation. I would recommend using the Timo Boll ZLF blade, which is a lighter blade. In addition, it uses Butterfly's ZL fiber, a harder, more flexible and lighter in weight than carbon fiber. This results in a lightweight blade which can produce a maximum amount of topspin with maximum control.

Regarding the sponge, I still suggest using Tenergy 05 on your forehand and Tenergy 05 FX on your backhand. As for the thickness, 2.1 is more suitable for your style because the 2.1mm thickness has more power when you smash and counterloop whereas the 1.9mm has less quality for control at contact than 2.1mm in these cases.

I believe using the Timo Boll ZLF Blade with Tenergy 05 on your forehand and Tenergy 05 FX on your backhand will be a perfect combination for you.
Thanks,
Jinxin