Hello Table Tennis Enthusiasts,
Such tremendous fun & excitement at my last Saturday, Sept. 25 at my LATTA Butterfly Open tournament!  We had 70 competitive players ranging from ages 9 to 74, displaying great sportsmanship in 8 events ranging from Under 1050 to 2300 level.  💪🏆
Sweats spewing on floor & on 14 spacious Butterfly tables & cars packed in our ample parking lot!  My 2 assistants, Ben Wong, Jeff Ito and I ran the tournament beautifully and smoothly! Big shout out to both of them!  It's wonderful to see many players from different cities in Southern Calif. competing against one another.  Thank you to all Participants!  Big congrats to all tournament winners!  If you didn't win, there's always a next time & room for improvement!
Your continued support of table tennis is sincerely appreciated.  LATTA is one of the longest, full-time operated facilities in CA, established in 1998!   Thanks for making LATTA such a success for the past 23 years!  We open daily, 365 days a year because we are extremely passionate about promoting table tennis! Whether you are recreational, intermediate, advance, or pro, come play at LATTA!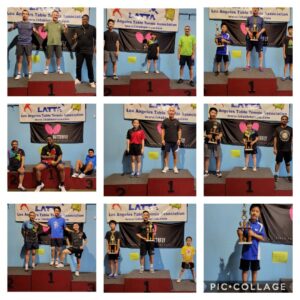 LATTA BUTTERFLY OPEN SATURDAY, OCT 30, 2021 (2 STAR USATT SANCTIONED TOURNAMENT!!!  REGISTER NOW!
As always, 2 players advance from preliminary round robin in all events!  Singles events include U10750RR, U1275RR, U1550RR, U1750R, U1950RR, U2050RR, U2150 & U2300RR!!!  PRIZE $$$ in ALL events!  Also, BIG 2 feet marble trophies in events U1075RR, U1275 & U1550RR!
Butterfly white R40+ 3 star balls, sponsored by Butterfly  of Bowmar Sports https://butterflyonline.com ! Register now at www.omnipong.com or call or text me at 626-927-8670!
WEEKLY SATURDAY U2150 ROUND ROBIN AT 10:10 AM!
Our next round robin (RR) will be on Sat, Oct. 23!  Our RR's have been a major hit!  Plan on participating every Saturday except on a tournament day.  Very fun and friendly!  There are many players on different levels with different styles to play against!  See how you stack up against some of the better players in the area!  It's unofficial, so leave whenever you want.  If you would like to play in a RR, please call or text me at (626) 927-8670, or email me at tawnybanh@yahoo.com.  Advance notice appreciated, but not required.  Just show up!  Only $6 for club members; $10 for non-members.
Oct. 16 U2150RR results
1st:  Robert Chen
2nd:  Keivan Bakhtiar
3rd:  Garo Yepremian/Steven Ikjema
Thank you for playing at LATTA!
Tawny Banh
LATTA President
2004 & 2000 US Olympian
1994-2007 US National Team
Pan Am Games Gold/Silver/Bronze Medalist (7 Total)
3-Time US National Women's Doubles Champion
US & CA Table Tennis Hall of Fame Inductee (2014)
USATT West Region Tournament Sanctioning Coordinator (2018 to Present)
Address:
LATTA
10180 Valley Blvd.
El Monte, CA 91731
(behind El Monte Car Wash)
Stay "In The Loop" with Butterfly professional table tennis equipment, table tennis news, table tennis technology, tournament results, and We Are Butterfly players, coaches, clubs and more.