Back to Westerwald Butterfly Table Tennis Center in Grenzau
Courtesy of ButterflyMag
and here we go: The ink has dried, the contracts are signed. Prolific German "Bundesliga" club TTC Zugbrücke Grenzau partners up once more with the equally prolific table tennis supplier Butterfly. Starting this season, Butterfly supports the traditional german club from the idyllic "Westerwald" region in its 35th year in the german first league. Also, Butterfly will now equip and support the popular international table tennis school in Grenzau.
High-Level Training and being close to the stars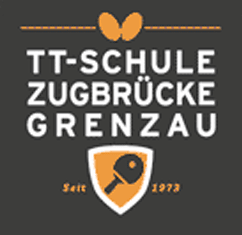 Butterfly and TTC Grenzau have revived their relationship after 15 years once again.
For Butterfly fans this means enjoying high level table tennis watching the Bundesliga team but also being able to participate in a fully Butterfly-equipped international table tennis school and learning table tennis from the very best coaches.
The table tennis school promises the very best training conditions to players of all levels – from beginners to aspiring professionals. Alongside great coaching comes the opportunity for best material advise in the official Butterfly TT Store located inside the training hall. Grenzau table tennis school offers also the very best relaxation in the state of the art wellness and sports hotel directly across the street where players can regenerate, enjoy a wide area of fitness sports, swimming pool and the very best in healthy and delicious food any table tennis fan could wish for.
Find out more on the Butterfly Table Tennis school here: (German/English)
Long term Partnership
Butterfly aims at a long-term partnership with Grenzau, vowing to support the club and upgrade the school and the professional table tennis center even more in the future. Olaf Gstettner, proprietor of TTC Zugbrücke Grenzau and board member says:
"We are very proud of our new partnership and we look forward to a fruitful cooperation in the future."
Bundesliga-Manager Manfred Gstettner continues:
"We have always wanted to be more international, that's why we were happy to sign a contract with Butterfly for the next five years. Butterfly has an excellent international reputation and a large network of players and coaches. This will help us to further improve."
Rüdiger von Berg, Sales Director of Butterfly Europe agrees:
"We want to support Grenzau in moving forward, helping out with our network.. We are very happy to be able to help develop such an amazing concept even more."
Interview
Rainer Stauber, member of Grenzau's press team recently talked to Rüdiger von Berg about hopes, goals and the road ahead..
Butterfly and Grenzau – this partnership existed once over 15 years ago. What was it like to revive this tradition?
At first there were some productive talks with Manfred and Olaf Gstettner. Since we were working together once and found common ground very easily, the process was quite effective. We are proud to support the Bundesliga club, and the international table tennis school is also important to us. Together we aim toward further improving and supporting both.
Butterfly is a world-leading brand and Grenzau a club with a long-standing great tradition. What are the plans now?
Butterfly has a large network of players and coaches that are under contract with us. We aim to use these connections to provide maximum support to Grenzau as well. We even started with introducing the new head coach Dirk Wagner to Grenzau, who just signed with the club. We have know Dirk for many years and are confident in and proud of the quality of his performance as coach.
This new partnership is made for a long term. Grenzau is now in the process of renewing its structure. How do you see the perspective for the future?
We are a traditional company and Grenzau is a traditional club. Our styles and goals are connected. Together we aim at pushing TTC Zugbrücke Grenzau back to the top.
A few words about Manfred Gstettner. When he was 16 years old, he founded the club Grenzau and now, more than 50 years later, he is still managing it..
Manfred Gstettner is a well-established person in the world of german table tennis. We hope he will be able to continue his work and provide experience in managing the club for many years to come. We know that this process of renewal will take time – maybe a few years. But if we keep at it and keep up the support, we will start to see the results soon.
Which role will the international table tennis school take in this?
We will provide new ideas and impulses towards making the wonderful table tennis school even more international. Grenzau is already the perfect location for such an institution, its beautiful modern setting and rural landscape make it an ideal choice for a sporty, yet relaxing vacation – for holidays or season preparation alike. Appealing to visitors and players alike, this is something no other location can offer.
What are your wishes for the future of TTC Zugbrücke Grenzau?
Of course the best success in sports, a good development and lots of participants in the table tennis school. We are very happy to be a partner to Grenzau in this and hope to take an active role in further improvements and a very successful joint future!
(Thanks to Rainer Stauber for the interview and press-release!)