Ask The Experts: Xinyue Wang #234
Butterfly Table Tennis Question and Answer
Question:
I am an intermediate near the table. I use tenergy 05 on my forhand and rounded on my backhand. I usually go for the smash and put a little spin on my shots. I do it softly sometimes. I wanted to know what the beat thickness of rubber is for forhand and backhand.
Answer: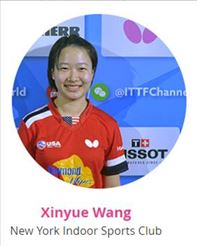 This Ask the Experts question was answered by Xinyue Wang. Xinyue is a coach at the New York Indoor Sports Club in New York City. Coach Wang's response is as follows:
Hi Ryan,
For the thickness, I would recommend 2.1.mm sponge.
For the rubber, I would also recommend you to try the Tenergy 05 FX, which has a softer sponge layer than Tenergy 05. Since you usually go for smash, a softer sponge would make the smash easier.
I hope this is helpfu!
Coach Wang