(By Brian Ash, TT Canada / Johnathan Humbles, Bowmar Sports)
2018 ITTF Butterfly Canadian Junior Open: The Road Paved With Gold
The PANAM Center in Markham is building its history as a mecca for entertaining table tennis: many remember the emotional maelstroms of the 2015 PANAM, the 2016 Olympic Qualifiers or the color and energy of the 2017 Women's World Cup. With so much on the line and with players exhibiting peaks in their personal stories the drama was palpable.
This week presented yet another chance to share in the Markham story. These players carried an intriguing montage of skill, determination and dreams; but the atmosphere was noticeably different.
This was the 2018 ITTF Butterfly Canadian Junior Open. As one of 27 ITTF World Junior Circuit Events it would all to easy to diminish its importance.  But look closer: 19 countries were represented in the boys competition and 12 in the girls including a Chinese delegation, a North Korean team and entries from four continental associations.
The presentation was excellent. Ten dark blue Europa 25 Butterfly tables set against light blue flooring and with black surrounds adorned with the pink Butterfly logo created a dramatic stage.
The attraction of this event lay in the fact that these young players are largely unproven at the international level. As they paraded in for the day one cadet events the same questions gnawed each evolving mind: How good am I? How good can I be? What will it take to reach my goals?
We had a glimpse of the road paved in gold for a bright and shining star who is quickly becoming one of the top junior players in Canada.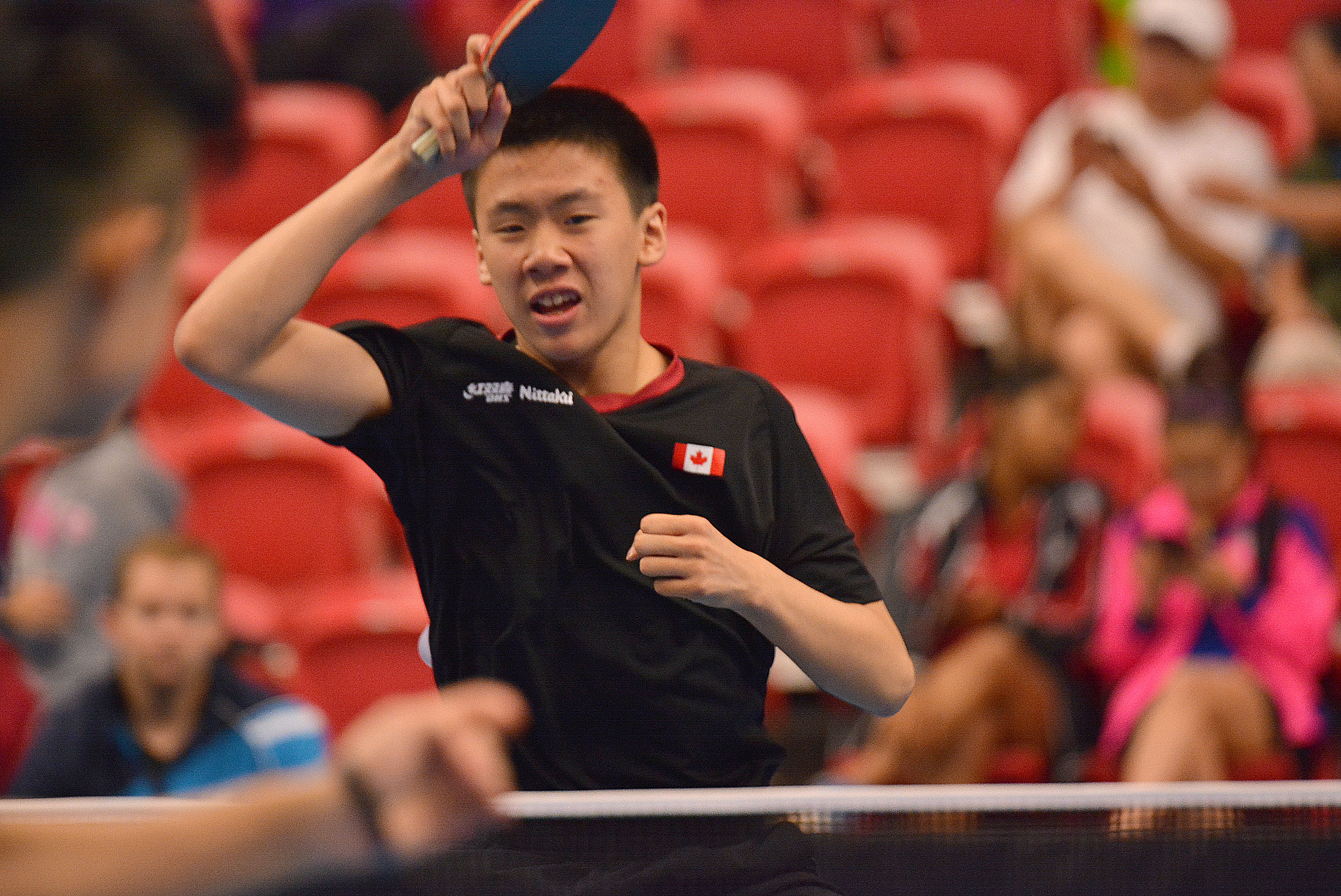 From the start of the tournament, Edward Ly was a step ahead of the field: his quest for gold began with an 11-5, 11-8 & 11-4 victory against fellow Canadian Emile Joncas. From there he recorded only two losing games through the entire cadet tournament – a remarkable feat.
But the semi-finals and the finals were still very hard fought matches.
Winning 11-8, 11-9 & 11-8, Ly raised his level against Daniel Ng and secured his place as a finalist for the cadet division of the 2018 ITTF Butterfly Canadian Junior Open.
Firing on all cylinders, Ly quickly and aggressively took game one 11-5 against Sid Naresh. Although Ly would eventually win the match 3-0, Naresh made the last two sets memorable. He showed great heart in pushing Ly in the last two sets losing by only three points at 11-8 and 11-8.
When asked how he felt about his play in the tournament, Ly replied:
---
"The key to the win was to start the first attack with good placement, to not let him put pressure on me because he has good defense."
"Feels incredible, this is my first international title."
---
He did say "first".