(by Steve Hopkins)
Many in the sport say that table tennis is one of the most popular sports in the world.  That can be tough to quantify – especially when athletes in other sports earn more money and other pro leagues are so popular.  Perhaps the better arguments label table tennis as the most popular "participation sport" or "recreational sport".  The actual statistics may not be exact, as some very populous countries have professional players and leagues and our country has many more players who would be classified as "recreational".
Still, Covid-19 has provided yet another opportunity to see the widespread popularity of our sport.  A search today on GOOGLE for "Quarantine" and "Ping Pong" brought up hundreds of thousands of links.  There were links to live matches with celebrities and comedians, lists of quarantine table tennis trick shots, hundreds upon hundreds of people listing their basement table as a way to pass the time, and there was even a gofundme page from a frustrated and bored teenager hoping to buy a table.
The same search on brought up football player JJ Watt's list of four "Olympic" games in a competition between the three Watt brothers with ping pong being one (JJ won).   University of Findlay Softball posted two sister teammates playing (pretty well) in their basement.  Hundreds of other links of regular people playing our sport on high quality tables, low quality tables, and make-shift homemade tables.  Just about anything can work as a "net" on a homemade table, or you can take it up a notch with a Stretch Net Set designed to provide a real net on any sized table.
Everywhere you look online, you see people enjoying the sport.  And as we come out of our virus quarantines and slowly start to get back to life as normal, ours will be one of the first sports to return.  Ours is a sport that can be played at a social distance.  Ours is a sport that can carefully limit the number of people in our clubs.  Our sport operates in an environment that is easy to clean and sanitize.  Let's all make an effort to reach out to the masses who are becoming reacquainted with their love of table tennis as this really is a sport for everyone.
Oh, and if you are ever in an argument about which sports are the most popular in the world, I like this statistic:  **Table Tennis had 500 million different viewers during the 2016 Olympic Games (that is four times the number of viewers as the Super Bowl).
At ButterflyOnline, we are looking forward to seeing everyone at the tables in a few weeks.
_______
(1) Twitter User @MIDNIGHTG9 with one of the most creative ping pong trick shots ever.
(2) Twitter User @RippedandDipped with their homemade kitchen ping pong table.
(3) baseball coach Sean Snedeker removing unnecessary furniture from his living room (replaced with something more entertaining).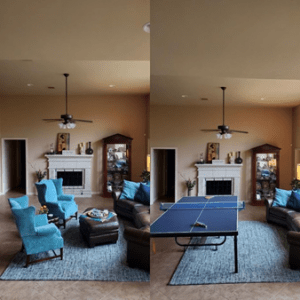 (4) Twitter User @Mikekillian88 rocking the homemade table –