Goodbye Michael Maze
Courtesy of ButterflyMag
March 23, 2015 – A few days ago, danish Superstar and Butterfly player Michael Maze declared his retirement from professional table tennis. After a long history of injury, surgical operations and countless comeback-attempts, he finally decided to put an end to his amazing career. Together with Michael, we look back on years of success, on his long road back to recovery and recap on old times. First off, his nickname is well-deserved: "Amazing Maze"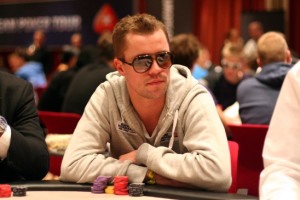 A star off the table
Michael Maze is and has always been a exceptional colourful  character in the world of table tennis. Where on the table he was known for his creative and versatile playing style with trademark service/return game, winning numerous titles such as European Champion in 2005 and 2009 and the Europe Top 12 in 2004, he also dabbled in the world of modelling (among others, he was in front of the camera for the Butterfly catalog) and also professional Poker, going as far as the national championship in Denmark (where Maze is a real celebrity), eventually placing 7th.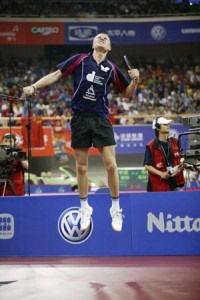 A match that became legend
One of several highlights in the career of Michael Maze surely was the World Championships 2005 in Shanghai, where he reached the semi finals and won the bronze medal. Yet, the results in no way reflect the amazing story of HOW he got there. In the Round of 16 he met Wang Hao of China, then 22-years old. During the match, Maze noticed a weakness of his opponent: Whenever Wang Hao was smashing, he missed a lot of balls. So the dane went for the risk, he deliberately stepped back from the table and defended with high shots – later known as "moon balls". And it worked, he beat Wang Hao 4-0. In the quarterfinals, Maze had to face China's Hao Shuai and the game started out catastrophically for Maze. Quickly, he lost the first three games 11-5. 11-8 and 11-6, and was faced with three match points at 10-7. To everyone involved, this match seemed all but over when Maze went to exhibition to present a spectacular last point. He stepped back from the table and allowed Hao to smash freely. But then, Hao missed. Michael saw his chance once more, but slipped on the wet floor at 10-9, sitting down he more or less only brought the ball back to the table. But amazingly, Hao missed again. Although he was still faced with match point, the game palpably started to shift into his favour.
Winning with moon balls
Over and over again, Maze stepped back and played high looping shots, which Hao proceeded to miss. As Maze started to regularly score that way, Hao Shuai became more and more nervous. The amazing explanation: Smash shots are among the first technique players learn. While devastating at an amateur level, professional players very rarely use it. This meant the top chinese players were not practising this shot and had little confidence at it. Maze turned this to his advantage, winning in a gripping 4-3 match and reaching the semi finals. There, he tried again against China's Ma Lin, but was unsuccessful. Chinese coaches were in high alarm after the quarter finals and practiced smashing with Ma, who beat Michael with 4-0. But the sensation was there and his opponent Hao Shuai never really recovered from this near-win after the tournament.
After his announcement to retire, we were able to talk with Michael about his decision and recap on the highlights of his career.
Q: Michael, who has been your idol in table tennis
A: That's swedish player Jan-Ove Waldner. The best player to ever play the game.
Q: Which was the best moment in your career?
A: I was lucky to have several great moments. But winning the European Championships 2005 with the team and 2009 in singles was a big dream for me.
Q: Which was your worst moment?
A: All of my injuries..
Q: What will you definitely miss in table tennis?
A: The really "big" tournaments and important matches.
Q: And what will you definitely NOT miss about it?
A: I will not miss waking up in pain and not having time for my friends and family.
Q: Which player from your professional career will you keep in the highest regard?
A: That's Vladi (Vladimir Samsonov from Belarus). He was already playing at Borussia Düsseldorf when I came there as a young boy. A great player and great personality.
Q: Who was your biggest rival?
A: Timo Boll! We are about the same age and played against each other a lot in all sorts of tournaments. Some great fights and big matches!
Q: Is there any player you never have been able to beat?
A: I think I was able to beat anyone!
Q: What compelled you to end your career now?
A: I decided to retire at this moment because I need to take care of my body, it cannot withstand the demands of table tennis anymore. And with the small amount of training I can do without being in pain, I am not able to compete on a professional level. Besides, I always promised I would stop before it is too late.
Butterfly wishes Michael Maze all the best for his future. We are proud to have been able to support such an exceptional player during his career.  Goodbye Michael Maze!