Ask The Experts: Shahin Akhlaghpasand, No. 324
Butterfly Table Tennis Question and Answer
Question:
I play close to the table with a very offensive style of play with a good forehand. When I get the chance to attack topspin, I do. I play the short and medium topsin shots very aggressively and look to end the points quickly. I've played with an Innerforce ALC (with Tenergy 80 & Tenergy 05) and for the last two years with a Mizutani Super ZLC (with Dignics 80 and Dignics 05).
I've noticed that with the SZLC (I play with AN handle) the grain is very fine and I lose my grip and my hand slips and I end up hitting the ball with my finger. Even so, I'm working on correcting my grip.
I've seen the new Harimoto SZLC, I liked the feel of my Innerforce ALC and of my SZLC. My question is the following.
Which wood would better my overall game, based on my offensive playing style? MJSZLC or HSZLC.
I thought about using the following set up
FH: Change my DIG80 to DIG09C
BH: Keep my DIG05 instead of switching to DIG09C
Which wood and rubber setup do you suggest?
Answer: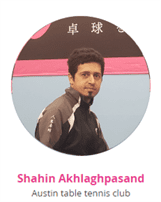 Hi Miguel,
 It's a very good question and in my opinion, the answer is obvious.
 Like you described, your style of play is very close to Chinese style.
 The Mizutani Jun Super ZLC blade is designed for players who play far away from table and thus cannot be a good choice for you.
 The combination of Harimoto Super ZLC with Dignics 09C or Dignics 05 can be a good choice for you. The Dignics 09C rubber is tacky and is exactly designed for the type of forehand you described. Dignics 05 however can be a very suitable choice for your backhand.
 Good luck!
 Coach Shahin