(By Steve Hopkins)
Day 3 at the 2018 Butterfly Cary Cup Championships
Day 3 at the 2018 Butterfly Cary Cup Championships at Triangle Table Tennis Center
The signature event of the 4-day Cary Cup began on Saturday morning.  This 2-day Giant Round Robin featured 160 players from across the US and Canada.
Hammed-Taiwo Adeyinka continues to play well.  Hammed, who finished third in the Thursday Open event and second in the Friday 1800 and Over event, finished first in his group today and is the first name on the Division A Finals draw.  In addition to Hammed, the top half of the draw features Yijun Feng, Jeremy Hazin and Jishan Liang – all who will be favored in their first matches.  However, Jishan is matched against Jimmy Butler who upset him on Thursday.  The lower half of the draw is headlined by Junham Wu (2709) and includes Jinxin Wang, Kaden Zu, and Kai Zhang.  Only two of the 16 in the Division A Finals are rated under 2400: Wang Cheng (2383) and Michael Leshinsky (2174).
Check in with ButterflyOnline's Cary Cup Results Page throughout the weekend to view photos, other articles, live results and follow the live stream.
Watch the full DAY 3 Featured Table Stream Here!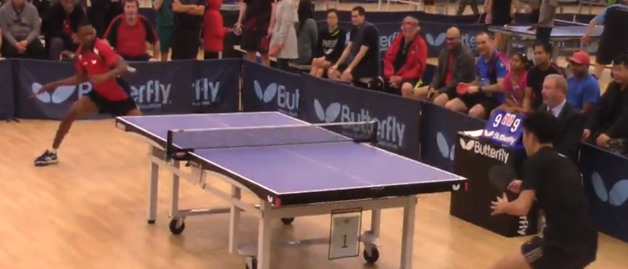 __________________________________
FRIDAY EVENTS: 
Event

First Place

Second Place

Third Place

Fourth Place

  Sen Nie

Benjamin Kang

Rishi Sankar

Chengpei Wu

1800 & Over Event

Jishan Liang

Hammed-Taiwo Adeyinka

Kai Zhang

Ange Cendric Oba
 __________________________________
THURSDAY EVENTS:
The full THURSDAY DAY 1 results are shown below:
| | | | | |
| --- | --- | --- | --- | --- |
| Event | First Place | Second Place | Third Place | Fourth Place |
| | Jehziyh Rawlins | Kevin Sun | Raga Avanasi | Danny Wan |
| Under 1500 RR |  Madhav Arepalli | Rachel Wang | Aditya Jain | Paul Slubicki |
| |  Roy Laronde | Ritika Rajamani | Oscar Galavis | Mitchel Andreas Macauley |
| |  Jimmy Butler | Jishan Liang | Hammed-Taiwo Adeyinka | Gabriel Skolnick |