Aerobic Table Tennis – HAVE FUN, KEEP FIT, LEARN TABLE TENNIS!

Aerobic Table Tennis Explained
Aerobic Table Tennis is a high energy fitness workout experience that combines the sport of table tennis with the benefit of burning calories. Available as an equipment package for schools and clubs, also includes an instructional video starring Olympian table tennis player Iulia Necula. Register your school or club today at AerobicTableTennis.com.

Aerobic Table Tennis Kits are Now Available!
• Aerobic TT FULL Kit
• Aerobic TT STARTER Kit

PUT THE BOUNCE BACK IN YOUR STEP
Bounce to the beat
Have fun keeping fit with this innovative fitness workout
Play strokes to the beat with motivating music
No table tennis experience required – although you will be introduced to the great game

Aerobic Table Tennis at St Benedicts Sports School in Kirkop, Malta
This is the earliest time ever for an Aerobic TT session. 7:30 am and look how lively the kids are.
Also this was the first ever mixed Aerobic TT session, both boys and girls took part.
BENEFITS OF PERFORMING AEROBIC TABLE TENNIS:
1. Helping Towards Weight Loss
Aerobic Table Tennis is able to burn an incredible amount of calories in a very short time. Beginners can burn about 200-­‐250 calories an hour, but more advanced athletes can burn between 400-600 calories in one single hour of Aerobic Table Tennis.
2. Developing and Improving Motor Skills and Balance
Aerobic Table Tennis is an excellent form of physical activity if you want to be sure that your kid's motor skills are developing at the right pace, and it is beneficial for adults and older people who are looking for ways to improve fitness, coordination and balance.
3. Strengthening the Muscles
Aerobic Table Tennis works all the core muscles of the body, strengthening them quickly: You need to do a lot of aerobic exercises, which works your back and abdomen; Performing lateral twists will train your side abdominal muscles; Hitting the ball with a bat, will strengthen your arms and shoulders; You will run around the table for the ball, which will strengthen your legs and train your joints.
4. Improving the Cardiovascular System and Beneficial for Your Organs
Aerobic Table Tennis is a cardiovascular activity with great beneficial effects not only for the joints and muscles, but also over the internal organs:
Swift movements will make you breathe quickly, which improves lung effciency and capacity; It raises the heart rate of the athlete, thus strengthening the heart; As an aerobic activity, it helps rejuvenate the blood vessels by oxygenizing the body and it facilitates the improved oxygenation of the brain as well, by pumping more fresh blood into it.
5. High Intensity Physical Activity with a Very Low Risk of Getting Injured.
Aerobic Table Tennis can be performed slowly or more intensely – it is completely up to the athlete. It is a low-impact form of exercise, which means that it involves the lowest possible risk of injuries, making it very suitable for both children and adults.
Conclusion
As a physical actvity, Aerobic Table Tennis is one of the most beneficial fitness programmes for improving mental and physical condition alike. Everybody can benefit from Aerobic Table Tennis, which makes it an activity that increases your health and well-­‐being. So what are you waiting for?
left to right: Steve Rowe (UK Coach & Aerobic TT founder),
Kelly Sibley, Jo Drinkhall and Hannah Hicks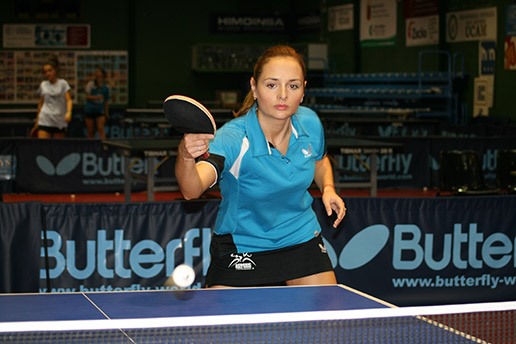 Iulia Necula

Aerobic TT Coming To A Street Near You!

Aerobic Table Tennis Recommends The Butterfly Amicus Robot

Aerobic Table Tennis Kits!
• Aerobic TT FULL Kit
• Aerobic TT STARTER Kit