(by Steve Hopkins)
The PongNow interview series discusses table tennis with some of the best players and personalities in the sport.
This edition features USA Table Tennis Hall of Fame member, Larry Hodges
Larry Hodges is a table tennis player, coach, promoter, writer, classic style specialist, and USA Table Tennis Hall of Fame member.  In this interview, he discusses his early days as a player, his role in the founding of the Maryland Table Tennis Club, some of his roles with USATT, and about writing (both table tennis and science fiction).
Many of Larry Hodges' table tennis books are available through Butterflyonline and available here.
For a list of Larry Hodges' books (including his science fiction books), visit this page at tabletenniscoaching.com.
__________________________
PongNOW Interview are powered by Butterfly.  Comment on videos via twitter @PONGNOW.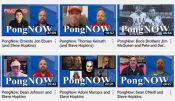 Stay "In The Loop" with Butterfly professional table tennis equipment, table tennis news, table tennis technology, tournament results, and We Are Butterfly players, coaches, clubs and more.