(by Steve Hopkins)
This edition of the PongNow interview series was conducted in Spanish by Estefania Ramirios. The guest is
Angel Luis Naranjo Lopez
, a rising star who has already accumulated considerable international experience playing for the Puerto Rican National Team.  See the Spanish Language interview with English text in the video below.
_________________________
SPANISH:
Hola aca Estefania Ramirios para PongNow, esta vez en una serie especial porque es la primera edicion en espanol. Por ello tenemos tambien un invitado muy especial.
Muchas Gracias por tenerme, muy agradecido. Espero que todos los que nos estan viendo esten bien!!!
Hoy tenemos a Angel Naranjo, el es un jugador de Puerto Rico, en el 2019 Campeon Nacional Seniors, Sub campeon nacion de dobles y Campeon Latinoamerico en menos de 15 anos
Cuentanos: Cuantos anos tienes, que categoria juegas.
Yo tengo 16 anos, mi cumple anos yo naci enero 28 de 2004
Especifico con la fecha
Si, exacto especifico
Yo nacie en San Juan, Puerto Rico empece a jugar a los 7 anos con mi papa en la cancha de Guaynabo, yo naci en San Juan pero vivo en Guaynabo, juego ahora mismo en la categoria juvenil.
Como fueron tus inicios? Dices que empesaste con tu papa, pero que fue lo que te motivo, como fue desarrollandose la carrera?
Un poco gracioso por que una noche estaba acostado en la cama y veia los trofeos de el porque estaban en mi gavetero, le pregunte..papi que deporte tu juegas? por alguna razon en mi mente de nino el hacia remo. Le dije que me interesaba jugar, y un dia me llevo a la cancha de Guaynabo, me presento a algunas personas, asi que me dio mucha ansiedad para empezar, pero me dijo que no, que primero iba hacer lo de la pelotita que tines que controlar con la raqueta pues eso fue lo primero. Dijo "cuando hagas diez, me avisas" estuve como una semana tratando, tratando,
Para hacer 10
Si, entonces cuando paso esa semana le dije "papi" ya hice los 10 y el dijo ok "ahora 20 " y yo..como enserio
Nunca te ponia en la mesa siempre era como esto
Exacto, eso fue como el primer mes o dos meses, despues de eso empece en la mesa con mi hermana, cuando yo empece ella ya llevaba como un ano o dos jugando pero despues ella se retiro, cuando tenia como 11 anos, le paro de de gustar pero si, yo empece con ella y con mi papa
A medida fue pasando el tiempo como te fuiste desarollando en cuanto a jugar en los torneos Internacionales, como fue ese apoyo departe de tu padre para que pasaras de algo basico como estar rebotando la pelotita hacia lfo un poco mas avanzado.
Pues mira a los nueve anos, fue mi primera eliminatoria para un equipo nacional, para los Latinoamericanos que se juegan de 11 y 13 esa eliminatoria no la pude hacer. Ese mismo ano se jugaba el Caribe en Puerto Rico, entonces participe con paises RD, Hiti Jamaica, Cuba no fue, estaba Aruba. Pero en ese momento todavia no lo tomaba en serio, a los 10 anos hice el equipo A, para los Latinoamericanos, fue en RD, llegue tercer lugar junto a Jabdiel Torres, que tambien esta auspicia por Bowmar Sports, esa fue mi primera medalla. Luego segui participando de competencias, ano tras ano.
Mi papa apoyandome, orgulloso de mi. llego un momento que veia que me estaba llendo bien en los torneos y me dije a mi y a mis padres que ya queria tomarlo en serio, dedicando mas tiempo y ya cuando cumpli los 14 anos que se me dio la oportunidad para ir a Suecia, a entrenar por primera vez, yo si habia ido a torneos a Europa pero nunca a un entrenamiento para quedarse, vivir ahi, fue un poco dificil al principio porque nunca habia estado asi fuera de mis padres. Mi mama al pricipio estaba bien preocupada
Cuanto tiempo estuviste en Suecia?
Estuve un ano, mas o menos dos semestres. Por tema de visa tres meses dentro, tres meses fuera, estuve desde sep a finales de noviembre de 2018.
En 2019, fui de enero ha mayo por ahi.
Cuales son tus planes a base de tu experiencia y de estar en un nivel
mas profesional, profesional de hecho . Cuales son tus planes a corto plazo
Si, ahora mismo mi mayor meta es los Juegos Olimpicos Juveniles, que si no me quivoco se celebran en Zenegal 2022 la eliminatorio que se hace en Latinoamerica estaba pautada para el ano que viene (2021) no se ahora mismo donde esta con todo lo que esta pasando.
Ese es mi enfoque ahora mismo, llegar a jugar a los Juegos Olimpicos Juveniles
Y a largo plazo, como te ves. Tienes 16 anos estas super joven, imagino que tienes objetivos a largo plazo, algun sueno alguna expectativa. Cuales serian.
Claro, mis expectativas a largo plazo son lo que la mayoria de gente tiene. Yo claramente siempre pongo mi 100 en las practicas, Quiero llegar a ser campeon Olimpico, campeon Mundial, tener un buen ranking mundial. Ahora mismo ya yo he jugado los juegos Panamericanos, que fueron mi primera competencia para jugar a nivel adulto, fue un poco sorprendente.
Al yo chocar con ese nivel yo pienso que me ayudo, fue como un abri los ojos aun que no gane ningun juego, vi que gane experiencia, vi que yo como quiera aun que no gane los juegos fueron un poco cerrados, algunos juegos que gane en Paraguay en ese nivel pienso que me fue bastante por esa experiencia y que a largo plazo puedo lograr todas esas cosas
a base de esas experiencias que has tenido, cual ha sido una de las anecdotas que no se te olvida ya sea de pequeno o ahora ya grande que puedas compartir con nosotros
Yo tengo una que en verdad nunca me voy a olvidar porque fue en Espana en un circuito, me toco ir a un campamento y tambien a torneo despues del campamento en Tailandia
Era un Ittf—-entonces me toco ir solo y tuve que irme del torneo antes por que fue a ultima hora que salio eso.
Sali bien con ese vuelo, Cuando llegue al aeropuerto ya yo habia tenido experiencias viajando solo pero nunca a esa distancia habia viajado a Japon
Un mundo totalemnte diferente
Excato. Yo habia viajado a Japon una vez, pero no fue solo. Esa vez yo iba completamente solo a Tailandia
Sin entrenador ni nadie, cuantos anos tenias
Yo tenia ahi 15
el anos pasado mas o menso
Excato, fue el ano pasado. Cuando llegue hacia parada primero en Turquia
Que genial
Entonces ese vuelo se atraso un poco como 45 minutos yo tenia una parada de una hora cuando llegue, llegue con prisa le dije a las azafata "yo tengo un vuelo para Tailandia y creo que voy a llegar tarde nada por favor que me ayuden" Entonces me dieron un mapa para yo llegar ese aeropuerto de Estambul es grandisimo, gigantezco yo me podia perder facil ahi.
Me ayudaron, me dijeron mas o menos como llegar y entonces cuando llegue yo verificando vi que el vuelo se atraso 6 horas y media. Entonces yo estaba rezando dije "porfa vor que se atrase" porque yo creo que no iba a llegar a tiempo.
Menos mal que se traso
Entonces llegue con hambre, por que ya era de noche, estuve en ese aeropuerto por mucho tiempo, comi, cerraron todo, me quede durmiento ahi y entonces al fin cuando ya anunciaron el vuelo, entre al avion y bueno tenia mucho sueno, me quede dormido en el avion, de momento me despierto habian pasado ya dos horas y todavia estabamos en la pista .
OMG Y TU ASI COMO…que hago
Exacto y es que hacia un calor porque las azapatas tenian todo abierto y yo dije que esta pasando aqui ya era de dia. Nada estuvimos ahi como dos horas en la pista despues al fin despegamos.
Cuando llegue, como es por ITTF yo hable con Ivan Santos el presidente de Puerto Rico, "mira Ivan mi vuelo se atraso, para que le digas a la trasnportacion de alla en Tailandia que mi vuelo va estar atrasado un monton de tiempo, para que hagas esos arreglos" y me dijo pues esta bien no hay problema.
Entonces cuando llegue vi aun muchacho con el cartel que decia ITTF, entonces yo le dije mira soy Angel Naranjo que mi vuelo se traso, esta es la transportacion? No hablaba ingles pero entonces el me dijo, me pregunto mi nombre, por que tenia una lista
Este, este soy Yo
Exacto, pero entonces ese nombre que estaba no era yo, era uno no se de Hong Kong o algo no se no era yo, entonces le dije "mira es que lo que pasa que yo soy de Puerto Rico" tratando de comunicarme con le porque no podia le dije que mi vuelo se atraso y el me dijo no, no no yo no puedo hacer nada y entonces yo llame a mi papa y le "mira papi este muchacho no me quiere llevar " y no se entonces el me dijo " no pero dile que le pagas lo que sea " porque yo tenia dinero encima, el muchacho como quiera no queria entonces me estaba dicindo que tomara un taxi. Y yo "papi me esta diciendo que coja un taxi que yo hago" entonces me dijo no, no no tomes taxi en ese momento el estaba hablando con Ivan, entonces un revolu.
Entonces al fin y al cabo tuve que cojer el taxi, yo en Tailandia, busque la foto del Hotel le dije al muchacho que el muchacho no hablaba ingles tampoco
yo super asustado con papi en el telefono al lado. Imaginate en Tailandia yo solo ahi
No y tambien, era la primera experiencia, tu no sabias que hacer, la cuenta de telefono de tu papa fue super genial, porque estabas desde Tailandia llamando.
Al final esas experiencias te independizan, esas experiencias yo te aseguro que la proxima vez que vuelva a pasar ya tu vas a saber que hacer donde ir . Son experiencias de crecimento
Oye y para ir cerrando
CUENTANOS , tienes novia, tienes amiguitas
Eeee ahora actualmente, no no tengo
Ahora actualemente
Actualemente, no tengo novia si claramente he tenido como enamoramiento "jevitas" como decimos aca.
Pero actualemnte no tengo novia, pero si tengo mejores amigas de aqui de Puerto Rico
Mejores amigas? …ok
Si tengo mejroes amigas, claramente tengo crush
SEGUNDO VIDEO: Como es la experiencia de jugar el Tenis de Mesa asesorado por tu papa, yo que personalmente lo conozco se que ha sido un jugador profesional, elite como ha sido esa experiencia que el te dirija y que el pueda llevarte al nivel top que ahora mismo estas.
Me siento muy agradecido porque mucha gente me dice a mi, no mucha gente tiene un papa primero que sepa de tenis de mesa, segundo que tambien apoye porque yo conozco a mucha gente que los papas no le apoyan. Un papa que no te apoye es como si te sientes limitado porque el amor de un padre es todo y de una madre igual entonces papi yo se que el vino de Cuba, un pais muy humilde, pobre que vino aca a PR para tener una mejor vida me siento muy agradecido de el y todo lo que ha hecho por mi porque tener un entrenador que sea tu padre, mas tambien todo ese conocimiento de Tenis de Mesa que el tiene
Y que entienda lo que estas haciendo tambien .
Por que el estuvo ahi en la mesa, sabe que paso en cada momento, cuando estbas ganando 9-5 y perdiste cuando estbas en ese 9-9 que pasa por tu mente. No muchos entrenadores saben
Oye y haz ido a Cuba, ya que tocas el tema que el es de Cuba
Si, si e ido? Lo he hecho dos veces, la primera vez que fui fue por vacaiones para conocer a mi familia tenia como 8, 9 anos y la segunda vez fue para un vento un Latinoamericano
Algun consejo o algun tip que tu puedas dar de tenis de mesa
Como para motivar a que no se quiten como dicen en PR y que sigan entrenando sabemos que con esto de la pandemia tambien es bien dificl mantenerse, entonces
Para que se puedan motivas a seguir escalando y no se desmotiven porque a veces tu sabes que las derrotas y todas estas cosas te desmotivan un poco.
Si, para eso de la motivacion, yo personalemnte como saben todos los eventos se cancelaron y yo me estaba preparando fuertemente para todos estos eventos tenia muchos importantes pero al principio me senti estresado un poco pero a lo mejor tu dices ok si tu estas trabajando para algo, eso no es temporeramente si tu trabajas para algo no importa si lo cumples a los 70, 60 anos pero si te encanta, lo que tu amas tienes que lucharlo hasta el final y siempre siempre va ser dificil no hay nada en la vida que sea facil. Yo tengo 16 no puedo habalarte asi de la vida, pero a la corta edad que tengo he tenido muchas experiencias algunas han sido fuertes y me ha dado una nueva perspectiva de la vida y es eso no se quiten, siempre trabajen duro aun que el tiempo este super dificil como lo esta ahora, nunca se quiten de los suenos que tienen y siemre trabajen duro por ellos.
Ok, Angel muchisimas gracias por el tiempo, muchas gracias por ser la primera persona en estar en PongNow, de verdad que un honor haberte entrevistado donde te pueden seguir, como pueden seguir tu carrera, tus entrenamientos. Cuales son tus redes sociales ?
Mis redes sociales, yo tengo facebook
mi pagina es Angel L. Naranjo y mi facebook personal Angel Naranjo y entonces mi Instagram
Tienen dos opiones, si quieren algo personal las nenas te pueden empezar a escribir
Si, no como sea verdad las dos
Las dos ok
En IG me llamo Angel Naranjo igual pero mi usserr name es naranjotm _74 y ahi posteo videos y eso en mi historias y ahi pueden ver fotos
A mi me pueden seguir como E.ramirios en IG y tambien en IG yo tengo mi cuenta de YT que es mas personal . Nada muchisimas gracias por vernos, espero en sus coments nos den sugerencias de a quien les gustaria que nosotros tengamos en las ediciones de espanol de PON NOW. y Nada muchas buenas vibras.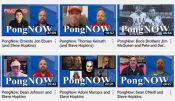 Stay "In The Loop" with Butterfly professional table tennis equipment, table tennis news, table tennis technology, tournament results, and We Are Butterfly players, coaches, clubs and more.