(By: Rachel Wang)
Will never forget my experiences in Cuenca, Ecuador. The city is a pivotal part of my table tennis career, as well as my life. Not only did I play my very first WTT tournament, but I also participated in the 2022 Under 15 Pan-American Championships tournament and contributed to setting USA's record of winning gold in every single event.
After learning that PanAms was going to be held in Ecuador, many people informed me of the high elevation, reduced air, and how unconventional the ball feels. Stories were told to me about how hard it is to breathe, which made me doubt whether or not I would even survive with the little air in the 8,500 feet high Cuenca. I was afraid I was going to faint if I overexerted myself. This apprehension led to the decision of going a week early and playing the WTT Youth Contender (8/17-8/21) in the same venue as PanAms to get accustomed to the playing conditions.
When I first arrived in Cuenca, breathing was fairly easy and with relief, I thought I would be fine when I played. Little did I know how strenuous breathing would be. I went to the venue the morning after I landed to practice with the Puerto Ricans until my teammate Sally and our coaches arrived. The venue was split into a main hall and a practice hall with large rock steps on the side as stadiums. I joined 2 Puerto Rican girls on table 1. Warm-up felt like a whole workout; I was panting from just jogging a few laps. I tried taking deep breaths, but all it did was strain my lungs. Next up was trying to play. The reason I say "try" is because we all barely made any shots on the table. The balls kept flying out because of the low air pressure. Also, we used Stag tables, which bounce aberrantly: sometimes no bounce, sometimes sudden kick. I had to make adjustments such as looping underspin earlier (before the ball could bounce abnormally) and aiming for the net instead of the table so that I wouldn't miss out. Sally arrived at noon, and when we started practicing, she ran into the same problems as me: shortness of breath and missing long. We had to take breaks between every few balls and drink lots of water to fight off the lightheadedness. We practiced for a few hours together until we had to give our tables to someone else, since countries took turns using the tables in the main hall.
The first day of the WTT tournament was extremely challenging for me. I had never played any WTT tournaments before and had no rating, so I was the very last seed for every event. Since I was always last in my group, my first match would be with first or second seed. I was extremely nervous because it was my first international tournament. My hands were shaking, my heart was pounding, and I was fighting to breathe. I lost the first game very quickly, because I wasn't used to her play style, and the tension made me play too passively. However, I gradually relaxed and played better each game, modified my strategy. This allowed me to win 3:1. After surviving the tough first match, I felt better mentally, but I still wasn't completely adjusted to the playing conditions. Towel breaks were crucial since they gave me a little time to rest and catch my breath. I think it took about 3 days for me to not have any more breathing problems. I played U17 first, but because of my low seeding, I played top seed in round of 16, ending my U17 journey rather early. Although a tough loss, I'm grateful for being able to play with 2020 Brazilian Olympian Giulia Takahashi and gain experience. The arduous event helped me become more comfortable with the difficulties of Cuenca; therefore, I played well in the under 15 event.
Although I planned for WTT to be my warm-up for PanAms, my flexibility and fighting mentality granted me the prize of second place for U15. I'm incredibly happy and surprised I was able to get such an exceptional award, since only top 2 get unique WTT trophies. I hope I have the chance to play more WTT tournaments in the future so that I can gain more points and raise my world ranking, as well as enjoy the marvelous experience of competing with international players again.
The awesome result and many matches helped me get ready for PanAms.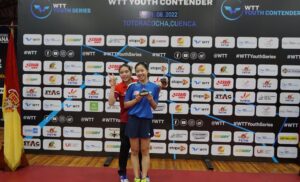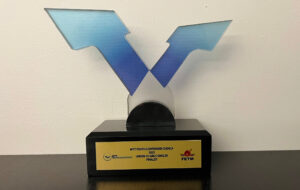 Stay "In The Loop" with Butterfly professional table tennis equipment, table tennis news, table tennis technology, tournament results, and We Are Butterfly players, coaches, clubs and more.