(by Steve Hopkins)
The PongNow interview series discusses table tennis with some of the best players and personalities in the sport.
This edition features the Godfather of Modern US Collegiate Table Tennis, Willy Leparulo.
Willy has held a leadership position in NCTTA for about 20 years, helping to guide them from a regional organization to the National (even International) organization they are today.
__________________________
PongNOW Interview are powered by Butterfly.  Comment on videos via twitter @PONGNOW.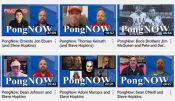 Stay "In The Loop" with Butterfly professional table tennis equipment, table tennis news, table tennis technology, tournament results, and We Are Butterfly players, coaches, clubs and more.