(by Steve Hopkins)
The PongNow Interview Series – talking table tennis with some of the best players and personalities in the sport. Thomas Wintrich didn't take table tennis seriously until he was 29 years old – but over the next five years he played and practiced and loved the game so much that he was one of the very few who for a while found a way to make a living in the sport – as editor of the organization's magazine which at the time was called SPIN.
_________________________
PongNOW Interview are powered by Butterfly.  Comment on videos via twitter @PONGNOW.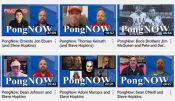 Stay "In The Loop" with Butterfly professional table tennis equipment, table tennis news, table tennis technology, tournament results, and We Are Butterfly players, coaches, clubs and more.