(by Steve Hopkins)
PongNow is an interview series talking table tennis with some of the best players and personalities in the sport. The guest this week is Tahl Leibovitz, among the most decorated American table tennis players ever.  Tahl has over 50 international para championships, won a Paralympic Gold Medal, has won 13 Para Pan Am Gold Medals, and is currently preparing for his fourth Paralympic Games.
_________________________
PongNOW Interview are powered by Butterfly.  Comment on videos via twitter @PONGNOW.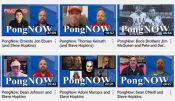 Stay "In The Loop" with Butterfly professional table tennis equipment, table tennis news, table tennis technology, tournament results, and We Are Butterfly players, coaches, clubs and more.