(by Steve Hopkins)
The PongNow interview series discusses table tennis with some of the best players and personalities in the sport.
This edition features Shigang Yang, one of the most decorated Butterfly coaches. Shigang Yang is the Head Coach at Atlanta International Table Tennis Academy in Duluth, GA.  He has been the US Junior Boys Team Head Coach, and at different times has coached both US and Canadian stars.
__________________________
PongNOW Interview are powered by Butterfly.  Comment on videos via twitter @PONGNOW.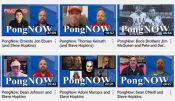 Stay "In The Loop" with Butterfly professional table tennis equipment, table tennis news, table tennis technology, tournament results, and We Are Butterfly players, coaches, clubs and more.