(by Steve Hopkins)
The PongNow Interview Series – talking table tennis with some of the best players and personalities in the sport. The guest this week is Mitchell Seidenfeld, a Hall of Fame member who was No.1 in the World in his Class as a para athlete for nearly eight years and who has become one of the best grass roots table tennis promoters in the US through his work with Table Tennis Minnesota and the Minnesota Table Tennis Federation.
_________________________
PongNOW Interview are powered by Butterfly.  Comment on videos via twitter @PONGNOW.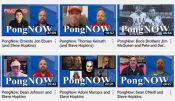 Stay "In The Loop" with Butterfly professional table tennis equipment, table tennis news, table tennis technology, tournament results, and We Are Butterfly players, coaches, clubs and more.