(by Steve Hopkins)
PongNow is an interview series talking table tennis with some of the best players and personalities in the sport. The guest this week is Larry Thoman – perhaps the foremost American expert in table tennis robots. He was also an important piece of the Nashville table tennis community, and was a fixture for many years as one of the top players in the Southeast. In more recent years, he has served USATT in a variety of roles including tournament sanctioning and scheduling.
_________________________
PongNOW Interview are powered by Butterfly.  Comment on videos via twitter @PONGNOW.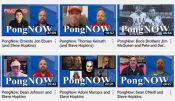 Stay "In The Loop" with Butterfly professional table tennis equipment, table tennis news, table tennis technology, tournament results, and We Are Butterfly players, coaches, clubs and more.