(by Steve Hopkins)
PongNow is an interview series talking table tennis with some of the best players and personalities in the sport. The guest this week is Michael Hsing, perhaps best known in the table tennis community as "Ariel's Dad". Michael was a big part of Ariel's early success, quitting his job so he could work from home and help ferry her from club to club and coach to coach, adding a room to their house, finding space to invite visiting coaches and players to live with them, and digesting hours of video – all while developing a grounded, successful daughter. Ariel became a National Champion and an Olympian – but also leveraged her work ethic and successes into an Ivy League education and a lucrative career. Michael Hsing is a part of her huge success story.
_________________________
PongNOW Interview are powered by Butterfly.  Comment on videos via twitter @PONGNOW.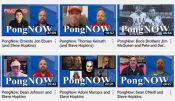 Stay "In The Loop" with Butterfly professional table tennis equipment, table tennis news, table tennis technology, tournament results, and We Are Butterfly players, coaches, clubs and more.