(by Steve Hopkins)
The PongNow Interview Series – talking table tennis with some of the best players and personalities in the sport. The guest this week is Dora Kurimay, a part of a European Championship Hungarian Team, Dora moved to the U.S. to seek a graduate degree and has since forged a path as an author and teacher and sports psychologist (while maintaining a presence as a table tennis coach and player).
Normally in our little sport, we have a choice between table tennis players who have solid insights in a narrow sphere, or we reach out to great sports psychologists who have backgrounds in other mainstream sports and we try to adapt those insights to our sport.  Dora Kurimay provides a unique opportunity to read insights of a trained psychologist who was also a world class athlete.
Dora's books and instructional videos can be accessed through her website at www.dorakurimay.com.
_________________________
PongNOW Interview are powered by Butterfly.  Comment on videos via twitter @PONGNOW.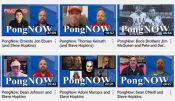 Stay "In The Loop" with Butterfly professional table tennis equipment, table tennis news, table tennis technology, tournament results, and We Are Butterfly players, coaches, clubs and more.