(by Steve Hopkins)
The PongNow interview series discusses table tennis with some of the best players and personalities in the sport.
This edition features David Zhuang, one of the most decorated American table tennis players of a generation.  He is an Olympian, a 6-time National Champion, and a Hall of Fame Member.
In addition to his 6 Men's Singles titles, David also won 15 Doubles National Championship titles, was a Pan Am Games Gold Medalist, was a US World Team Member, and was twice selected as USOC Athlete of the Year for Table Tennis.  He is now the head coach at Princeton Pong in Princeton Junction, New Jersey.
__________________________
PongNOW Interview are powered by Butterfly.  Comment on videos via twitter @PONGNOW.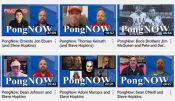 Stay "In The Loop" with Butterfly professional table tennis equipment, table tennis news, table tennis technology, tournament results, and We Are Butterfly players, coaches, clubs and more.