(by Steve Hopkins)
The PongNow Interview Series – talking table tennis to some of the best players and personalities in the sport. The guest this week is US Table Tennis Hall of Fame Member, Connie Sweeris. The lead line of her bio often references her role in US/China Ping Pong Diplomacy, but often overlooked is her dominant 1971 year – including winning the US Open Triple Crown – Women's Singles, Women's Doubles, and Mixed Doubles. Her husband has also had a long and storied career in the sport – and her son played in two Olympics.
Dan Seemiller's New Book, Smash!: Moments, Memories, and Tips  is available on Amazon and directly from www.danseemiller.com
________________________
PongNOW Interview are powered by Butterfly.  Comment on videos via twitter @PONGNOW.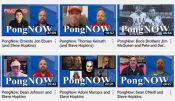 Stay "In The Loop" with Butterfly professional table tennis equipment, table tennis news, table tennis technology, tournament results, and We Are Butterfly players, coaches, clubs and more.