(by Steve Hopkins)
The PongNow interview series discusses table tennis with some of the best players and personalities in the sport.
This edition features Brian Pace, one of the leading juniors of his era, an elite player, and now a forward-thinking innovative coach.
Brian was the most accomplished of Butterfly's Wilson, North Carolina junior program which was one of the leading programs in the sport in the 1980s.  He went on to play at the Resident Training Program in Colorado Springs, in Japan, and in Europe.  He is now primarily known as a coach in North Carolina with students throughout the region.
__________________________
PongNOW Interview are powered by Butterfly.  Comment on videos via twitter @PONGNOW.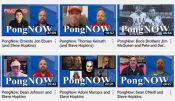 Stay "In The Loop" with Butterfly professional table tennis equipment, table tennis news, table tennis technology, tournament results, and We Are Butterfly players, coaches, clubs and more.