(by Steve Hopkins)
PongNow is an interview series talking table tennis with some of the best players and personalities in the sport. This week, we have Bowie and Melba Martin – who turned their love of table tennis (and a $60 investment) into one of the most important table tennis companies in North America. Bowie and Melba, the origin story of the Martin Kilpatrick Company and Butterfly in North America.
_________________________
PongNOW Interview are powered by Butterfly.  Comment on videos via twitter @PONGNOW.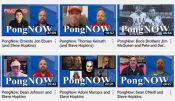 Stay "In The Loop" with Butterfly professional table tennis equipment, table tennis news, table tennis technology, tournament results, and We Are Butterfly players, coaches, clubs and more.