(by Steve Hopkins)
The PongNow Interview Series – talking table tennis with some of the best players and personalities in the sport. The guests this week are the Alguetti Brothers.  Adar, Sharon, and Gal have each crossed 2600 on their rise up the ranks of elite US players.  They share some interesting stories and poke a little fun at each other along the way.
_________________________
PongNOW Interview are powered by Butterfly.  Comment on videos via twitter @PONGNOW.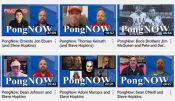 Stay "In The Loop" with Butterfly professional table tennis equipment, table tennis news, table tennis technology, tournament results, and We Are Butterfly players, coaches, clubs and more.