Ask The Experts: Maggie Tian, No. 189
Butterfly Table Tennis Question and Answer
Question:
Blade: Sardius
What suitable rubber of Tenergy series for Sardius blade, increase control, spin, and block?
Answer: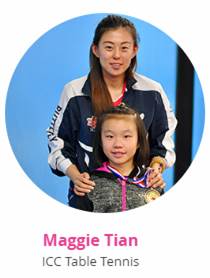 This Your Ask the Experts question was answered by Maggie Tian. She is a coach at the India Community Center in Milpitas, CA. Coach Tian's response is as follows:
Hi Faisal,
 Sardius is a powerful blade. I can see why you want to choose a rubber with better control. Without knowing how you play, I'd suggest your try the FX versions of Tenergy rubbers first. If you block a lot, I'd say try Tenergy 64-FX. Otherwise, Tenergy 05-FX, Tenergy 25-FX, or Tenergy 80-FX.
 I will also recommend you try other players' rackets first. Although you may not find exactly what you are looking for, at least you will have a better idea.
 Thank you for your question. Play more. Play for fun.
 Maggie
---
Contact our Experts with your table tennis equipment question.