Ask The Experts: Junya Chen No. 206
Butterfly Table Tennis Question and Answer
Question:
I am a high beginner level player and play from the mid to far table, I often love to smash and play quick to finish my opponent off. I often hit lots of smashes with full swing. But I realized that some of it might be too powerful and it often gets out. I'm currently looking for rubbers that have good speed when it comes to smashes and not much of high rebounds. I would like to easily counter smash as well. What rubbers would you recommend me based on my blade and playstyle?
Answer: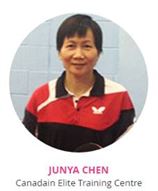 This Ask the Experts question was answered by Junya Chen. Coach Chen is the head coach at the Canadian Elite Table Tennis Training Centre in Mississauga. Coach Chen's response is as follows:
Hi Sheng, Tenergy 80 is most likely too fast for your level of play, I would suggest you to try Spin Art for forehand and Tackifire Drive for backhand. Spin Art will give you more control but still powerful. Tackifire Drive is a lower speed rubber but will be sufficient for backhand. However, as the blade you are currently using is relatively quick, your other option could be changing the blade.
Have fun,
Junya Chen
Canadian Elite Table Tennis Training Centre Head Coach
---
Contact our Experts with your table tennis equipment question.