Ask The Experts: Junya Chen No. 249
Butterfly Table Tennis Question and Answer
Question:
Which butterfly rubber has lowest angle, minimum spin sensitivity and good control for backhand.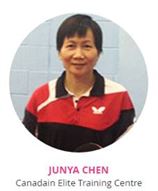 Answer: 
This Ask the Experts question was answered by Junya Chen. Coach Chen is the head coach at the Canadian Elite Table Tennis Training Centre in Mississauga. Coach Chen's response is as follows:
Hi Badal,
According to your needs, I am going to recommend you to use Rozena. The speed of this rubber may be still a little faster as what you originally wanted, but it has good control unlike other rubbers that solely focuses on the speed. At the same time, Rozena helps compensate for subtle racket angles and directional swing errors, thereby creating a sense of stability. This would be a perfect rubber for your backhand. 
In order to hit shots with lower angles, not only that you will need to choose suitable rubbers, you will also need correct strokes to pair it up with. 
Lastly, hope you enjoy using Butterfly products!
Coach Chen
Canadian Elite Table Tennis Training Centre Head Coach
---
Contact our Experts with your table tennis equipment question.