Ask The Experts: Junya Chen No. 230
Butterfly Table Tennis Question and Answer
Question:
Hi there. I'm 63 years old, should say in a good shape, been playing club level TT for last 20 years. I quit playing tournaments years ago. I'd say I'm all-around player, somewhere between 1500 and 1600. I'm pretty satisfied with my current equipment but, would like to improve my results a little bit. I'm planning to buy Tenergy 80 and, not sure about suitable blade in mid-range price level. Thank you!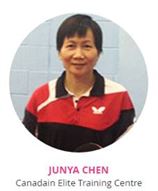 Answer: 
This Ask the Experts question was answered by Junya Chen. Coach Chen is the head coach at the Canadian Elite Table Tennis Training Centre in Mississauga. Coach Chen's response is as follows:
Hi Vitaliy,
Thanks for your email and your interest in purchasing Butterfly equipment.
I would suggest you to try Viscaria with your Tenergy 80. Viscaria has a softer feel compared to most carbon blades and has a great balance and flexibility for all-around player like you. I have tried out this blade in the past, and I had a great experience with it. The blade itself is high speed, but at the same time, very controllable. In other words, it gives a lot of power when you hit it hard, but at the same time it has very good control when you aim for a lighter shot.
Tenergy 80 is a relatively quicker rubber, more and more people are starting to transition to use this rubber. Combining the Tenergy 80 spring sponge technology with softer carbon blade like Viscaria will create a flawless feel.
Hopefully my answer has helped you to make decision on the blade and good luck!
Best,
Junya Chen
Canadian Elite Table Tennis Training Centre Head Coach
---
Contact our Experts with your table tennis equipment question.