Ask The Experts: Jon Ebuen, No. 293
Butterfly Table Tennis Question and Answer
Question:
Sir, what's d best blade with control. I am a blocker and I rely on spinny serves also to get points
Thanks.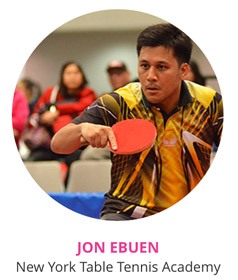 Answer:
Your Ask the Experts question was answered by Jon Ebuen. He is the head coach at the New York Table Tennis Academy in New York, NY. Coach Ebuen's response is as follows:
Hi Jesse,
 Thank you for your question.  
 My best recommendation for your question is Hadraw Shield.  This blade is designed for players with a playing style like you.  
 This blade will help you refine your ball absorption, thus improving your ball placement and underspin. 
 Hope this recommendation helps.  
 Thank you.  
Jon Ebuen
New York City Table Tennis Academy
www.TheTableTennisAcademy.org
212.535.3553
---
Contact our Experts with your table tennis equipment question.