(by Steve Hopkins)
The PongNow Interview Series – talking table tennis to some of the best players and personalities in the sport. The guest this week is Ian Seidenfeld, one of Team USA's three table tennis Paralympians getting ready for Tokyo. Ian is one of the best Class 6 players in the World, with titles that include a Gold at the Para PanAm Games and making the Quarterfinals at the World Para Championships.
________________________
PongNOW Interviews are powered by Butterfly.  Comment on videos via twitter @PONGNOW.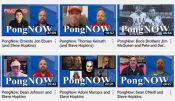 Stay "In The Loop" with Butterfly professional table tennis equipment, table tennis news, table tennis technology, tournament results, and We Are Butterfly players, coaches, clubs and more.