Welcome PongPlanet Table Tennis Club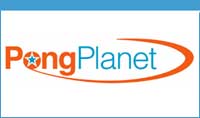 PongPlanet is the latest table tennis club to join the "We Are Butterfly" program. PongPlanet is a full-time club located at 848 Brittan Avenue in San Carlos, California. They offer the highest quality courts, equipment and instruction in the area, along with a  variety of programs for adults and juniors of all abilities. Many of their programs help ensure a constant progression of competitive and recreational players, as well as the opportunity to engage in leagues and tournament play.
In addition, PongPlanet has open play hours for those interested in doing their own thing, or just enjoying the social camaraderie of our club. For serious players or fitness enthusiasts, they offer private coaching lessons and robot training. For fun-lovers, they facilitate birthday parties and corporate events themed around ping pong. During holiday breaks, they offer table tennis camps for kids.
Visit the PongPlanet website for more information.