Butterfly Parlor Sponsorship Program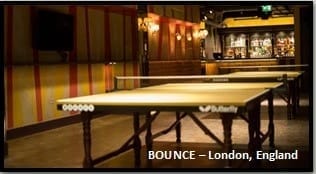 With table tennis themed bars, lounges and restaurants opening all over the world, the game truly has come full circle.
Join the Butterfly family as we take this exciting leap forward into the mainstream.
As part of our Butterfly sponsored family we will provide –
PROMOTION

Include you in the 'Parlor' section of the We Are Butterfly portion of our site that will feature these social table tennis hot spots.
We will provide tremendous exposure via our website, e-newsletters and other social media outlets. Send us your content (pictures, videos, articles, etc.) and we'll post them on our site as well.
SPONSORSHIP

Free banners, posters, promotional material, etc.
Free balls and ball scoops per month based on your sales volume.
PRO SHOP

For your pro shop area we can offer special pricing on tables, apparel & equipment.
A player's racket can be as unique as the individual himself. Custom rackets can be built to suit a player's individual speed and spin preferences.