(Courtesy of Triangle Table Tennis)
Triangle Table Tennis December 2017 News and Happenings
We know, we know, we're a little early, but who can blame us?  We have so much to tell you!
This newsletter is the last email you'll receive from us this month, so you'll find it all in this one source — a quick overview of recent news as well as upcoming tournaments and programs, including next weekend's USATT 2-star sanctioned 2017 Triangle December Open Tournament, more Tournaments through February 2018, membership changes, Leagues, and Group Lessons.
Changes on the horizon for club membership
Since we opened our doors 3 1/2 years ago, we have watched our tournaments, programs, and membership grow.  There aren't many places in the US where you can witness some of the strongest youth players in the country develop their games on a daily basis, or watch US Open and National Champions compete from just a few feet away.  However, as we have have grown, so too have our costs.  After much deliberation, we have decided to raise our membership rates for the first time starting January 1st, 2018.  This means all new memberships and renewals that take place after December 31st, 2017 will be subject to the new rates.  However, Activation Fees have actually gone down, making it easier to start or reactivate a membership.  You can view the new membership rates here.  If you have any questions about anything, please contact our management team at 919-388-0272 or manager@triangletabletennis.com.  We thank you for your understanding as we continue to help grow the sport we love both locally and nationally.
2017 Triangle November Open Recap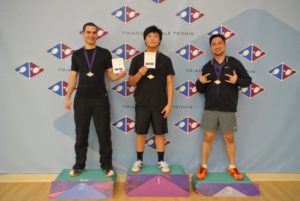 Our November tournament was a great mix of new and seasoned players.  Nine(!) participants got their first rating after the results were compiled, while several regulars made significant jumps.  Bella Xu and Anav Gupta both went up over 200 points!  Congrats!  For more pictures, check out our Facebook Album.
For full article, please click
here