The 29th Cape Fear Open
(By Tony Murnahan)
On Saturday, November 3, the 29th Cape Fear Open was held at the Massey Hill Recreation Center in Fayetteville, NC.  21 players were entered in the tournament.  This tournament was snake seeded with no preliminary round.  There was an air of excitement since Ryan "the Nightmare" Gibson (2112), the Newport News Open champion the week before, decided to spend his birthday in Fayetteville playing in this tournament.  There was even more excitement when Gustavo Gonzales (2270) entered at the last moment.  There was friendly camaraderie and spirited competition throughout the event.  There were three groups of seven and the top two advanced into a single elimination playoff.  With the top two seeds – Gibson and Gonzales – getting a bye in the quarter finals, we had Moustapha Nasser defeating David Pannell and Tim Connelly defeating Cliff Lin to get to the semi-finals.  Gibson and Gonzales had little trouble with their opponents and their battle was set.  Gibson played tough but lost three straight to Gonzales who was our tournament victor.  Nasser defeated Connelly for third place.   Recently, the Cape Fear Opens have been known for their upsets and this tournament was no exception.  Bryan Zeng won biggest upset with a 393 point difference.  Weiguo jiang won second biggest upset with a 291 point differential.  Finally. Waleed Mohamed won third biggest upset with a 283 point differential.  All in all we had five matches with upsets of over 200 points!   The Cape Fear Opens remain popular and we look forward to hosting more tournaments in 2019!
Here are the results from the 29th Butterfly Cape Fear Open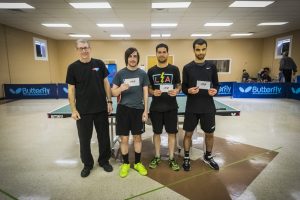 1st place: Gustavo Gonzalez
2nd place: Ryan "The Nightmare" Gibson
3rd place: Moustapha Nasser
4th place: Tim Connelly
29th Cape Fear Open Final (Highlights)
Check in with ButterflyOnline.com for the latest news and updates.