Team "NJTTC" Takes Title at 2015 America's Teams Championship in Impressive Style
by Barbara Wei
Over Memorial Day weekend, 41 teams from across the U.S. competed in the 2015 America's Team Championship, a 4-star USATT sanctioned tournament in Rockford, IL (1 hour outside of Chicago). The Midwest event is in its 7th year and is known for its fun, friendly and team-focused atmosphere. This year's heavy favorites "NJTTC" did not disappoint, wowing the crowd with their impressive play and fighting spirit.
"NJTTC" brought a contingent of top players including 2015 Arnold Table Tennis Challenge champion Bochao Li (2654), 2015 Cary Cup quarterfinalist Zongqi "Henry" Zhong (2545) and relative US new-comer Xingchang Li (2642). Also on the team was NJTTC student Xin Tao (1791) who provided necessary support for the team throughout the weekend.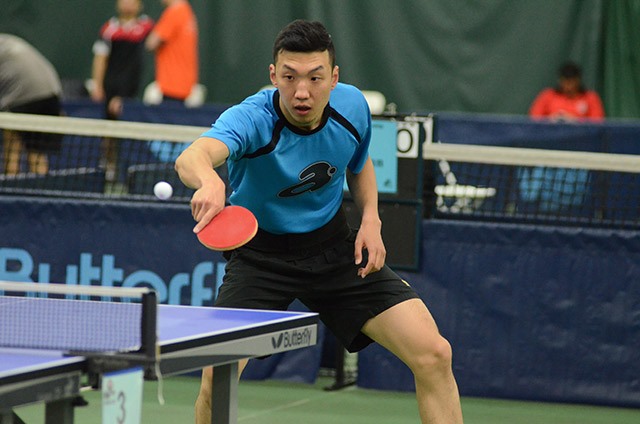 In the finals, "NJTTC" faced number two seed "AITTA-XNT5" comprised of the notorious Midwest coach and student pairing Michael Tran (2431) and Wei Qi (2507) aand AITTA (Atlanta International Table Tennis Academy) representatives Chu Xia (2462) and Zi Rui Zhao (2587). In the opening match of the encounter Zongqi "Henry" faced Zi Rui in what would prove to be a crucial turning point for the final. Zongqi "Henry" had played Zi Rui many times in the past and had never won, but during the final he surpassed even his own expectations and took the match 3-2. Wei was able to secure the only win for AITTA-XNT5 by upsetting Xingchang in the second match of the tie with his athletic play and big forehand attacks, evening the score at one match each. Bochao picked up two more matches for his team beating Chu 3-0 and Zi Rui 3-2, while Zongqi "Henry" continued his winning streak by taking out Wei 3-1. The 6th match of the team pitted Xingchang and Chu. With "NJTTC" leading "AITTA-XNT5" 4-1, both players knew that a win was critical. Xingchang was able to put a stop to Chu's tricky serve and attack game in a five game battle to secure the title for "NJTTC" in impressive fashion. Although the final 5-1 score may seem like an easy win, 3 of the 6 matches played went to five games. The final was actually a hotly contested battle which demonstrated true fighting spirit by both teams.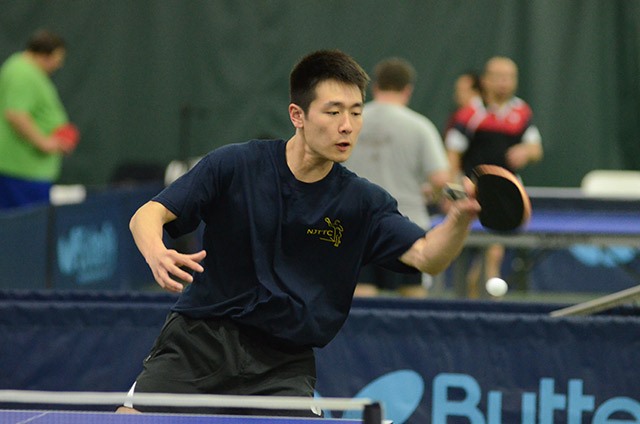 In Division 2, "Ping Pong Wizards", a Midwest junior team (Peter Yang, Aaron Avery, David Lee) took top honors (and a $1,000 cash prize) beating out competitors many years their senior. "Papatorpe" (Richard Vesel, Denethi Wijegunawardana, Siddharth Khandelwal) won Division 3 in a close 3-way tie for first. "The Four Horseman" (Douglas Wruck, Carl Bradley Jr., Ryan Driskill, Mehdi Barati) beat out fellow competitors to take Division 4 and finally "Hammer Time" squeaked out a win in Division 5 in another 3-way tie for first.
Experienced tournament director and Rockford resident Ed Hogshead looks forward to continuing the event for future years to come. He hopes more teams will attend the Memorial Day event and looks forward to welcoming table tennis players from around the country to his home town.