Success at First Attempt, Hugo Calderano and Wu Yue Secure Pan American Titles
2015 Pan American Games
Courtesy of ITTF
Brazil's Hugo Calderano and Wu Yue of the United States won the respective Men's Singles and Women's Singles titles at the 2015 Pan American Games in Markham, Toronto on Saturday July 25th.
At the final hurdle Hugo Calderano overcame colleague Gustavo Tsuboi (11-6, 6-11, 4-11, 11-7, 13-11, 9-11, 11-2 ) after Wu Yue had won a tense seven games contest in opposition to Gui Lin, also from Brazil (11-8, 11-8, 4-11, 8-11, 10-12, 11-9, 11-9). Notably it was success at the first attempt; both were on debut in the quadrennial multi-sport gathering.
However, it was not a first for their respective countries; for the United States Insook Bhushan and Gao Jun had each won the Women's Singles title three times; for Brazil, Hugo Hoyama had succeeded in 1991 in Havana and in 1995 in Mar del Plata.
In Toronto he sat courtside in the role of coach for Gui Lin, so nearly he guided her to victory.
Vital Seventh Game
In the vital seventh game Gui Lin led 5-1 at the change of ends; at 7-5 the advantage was still with the Brazilian but from that moment onwards, Wu Yue played error free, she won six points in a row to claim the title.
Victory for Wu Yue meant the record of the Pan American Games Women's Singles title, always being won by a player from North America was maintained; distraught having lost from a winning position it was for Gui Lin meagre consolation that she had become the first ever Brazilian to reach such a final
Thinking of Gold
"After winning the second game I started to think too much about winning the gold medal; that's why I lost the next three", said Wu Yue. "It was important that I really concentrated better."
Wu Yue not only had to fight her adversary, she had to fight herself; eventually, staying close to the table her counter attacking skills prevailed.
"At the change of ends in the seventh game when I was losing 5-1, I didn't really change anything: I just tried to play my game, try to be the first to attack and eventually I won", added Wu Yue. "Now, I just feel amazing, I'm going to the Olympic Games!"
Power
A place in the Olympic Games following a performance where control and counter top spin play was the key; for Hugo Calderano exerting his power at every opportunity opened the door to victory.
However, he was most certainly tested by a very determined Gustavo Tsuboi who was playing in his third consecutive Pan American Games but in his first final.
Contest Ebbed and Flowed
Hugo Calderano secured the opening game; the next two went to Gustavo Tsuboi before the balance swung in favor of the champion elect. Hugo Calderano won the next two games; in the sixth he led 7-6.
Gustavo Tsuboi called "Time Out", he leveled at 9-all, before winning the next two points to force a decider.
The crowd, despite the fact it was two Brazilian on duty and not a Canada, was engrossed.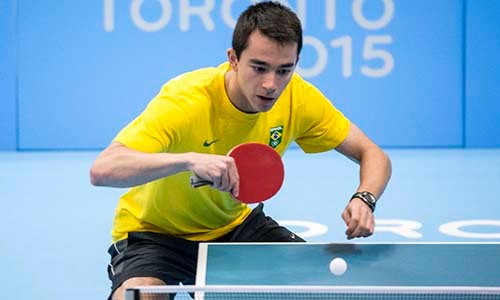 Hugo Calderano the youngest ever Pan American Games Men's Singles winner
Photo by Thorsten Gohl
Seventh Game
At the change of ends in the seventh game, it was advantage Hugo Calderano.
He led 5-2, the grip was never relaxed; not one further point was surrendered.
Incredible Feeling
"I just cannot describe how I feel, it's incredible, there are no words", said Hugo Calderano. "It was a tight match, it was always going to be a tight match, we know each other so well."
Tight Match
A tight match, it was until the seventh game which he dominated from start to finish, once a three point gap had been created confidence blossomed.
"I went two-one down; then I led three-two and 9-6 in the sixth game and lost; I cannot explain the seventh game", added Hugo Calderano. "Now the feeling, it's just the same as last year, the bronze medal at the Nanjing Youth Olympic Games; today is the equal."
Always a Hugo
Success for Hugo Calderano and tradition maintained; when Brazil wins, it is always a Hugo!
Furthermore, Hugo Calderano has qualified for the 2016 Olympic Games, the city of his birth, the city of Rio de Janeiro.
Main Draw: Men's Singles, Women's Singles

Singles Medal Counts
Brazil: Gold – Hugo Calderano: Men's Singles
Silver – Gustavo Tsuboi: Men's Singles & Gu Lin: Women's Singles
Bronze – Thiago Monteiro: Men's Singles & Caroline Kumahara: Women's Singles
USA: Gold – Wu Yue: Women's Singles
Bronze – Lily Zhang: Women's Singles
CANADA: Bronze – Eugene Wang: Men's Singles
Congratulations to all!
Day Seven: Quarterfinals, Semi-Finals and Final of Men's Singles and Women's Singles events conclude matters in Markham
Photos by Thorsten Gohl