Seemiller: The American
(by Steve Hopkins)
One of the most storied players in American table tennis history, Dan Seemiller.  He first qualified for the US Team in 1972, was the top ranked player in the country by 1974, won five US National Championships, and logged an amazing international record that at one point included completing two consecutive World Team Championships without losing a match.  Later in his career, he became a highly decorated and successful coach, a tournament promoter and director, an author, and he also served as President of USTTA.
The signature grip and style that bears his name is still referred to by many internationally as "the American grip".  Seemiller is the quintessential "American" player – with emotion and grit and heart.
In February, as Dan was training for the Olympic Trials, he began posting memories to his Facebook page.  Over the next few weeks, we are going to share some of those photos and quotes in this series "Seemiller – The American":
________________________________________________________
One of the great treasures of being a coach is to see your student progress and learn to be the best they can be.
Here's a photo from the Junior Olympics in Des Moines, Iowa in 2004. Table Tennis has many brothers that play. The key is having them get along so when they are home they practice well there and help each other. No easy task.
(left to right) AJ Brewer, CJ Brewer,Spenser Lane, Shelby Lane
(back row)Kevin Schulz, Gordon Cochran, Joe Cochran, Andre Khailo, Dan Seemiller Jr. and Dan Seemiller Sr.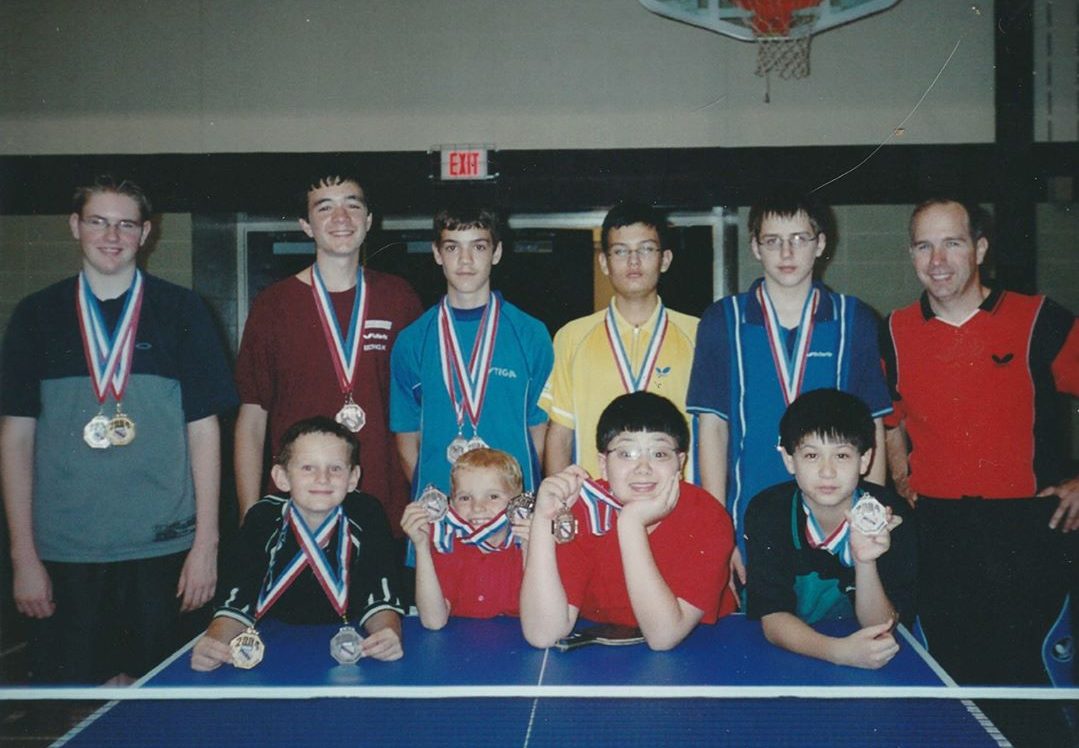 Over the years our South Bend Junior team has participated in several Jr. Olympics. In Charlotte, Baton Rouge, Detroit, Hampton Roads, Knoxville, and Des Moines.
I started coaching Mark Hazinski when he was 11 years old.
Mark made the Olympic team in 2004 to Athens, Greece and I was nominated as the coach.