(By Sally Moyland)
This was my last competition in the year of 2020. It was the Taiwan National Adult's Team Qualification. To be able to participate in this tournament, you must have top results in other high-level competitions. If you didn't have any good results in other tournaments, you could still get recommended if you were a chopper or penholder.
The intensity of the competition itself was very high. There were twice the number of rounds compared to the junior team qualification tournaments, which are usually three rounds. Because of this, energy and endurance were definitely important factors.
As there were six rounds, I got to play more matches. My goal was to compete in 20 matches total, but in the last round I wasn't focused enough and ended up losing to a player that was a year younger than me. In the end, I finished with a total of 18 matches – winning 12 and losing 6.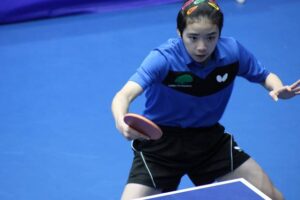 This trip was a very new yet tiring experience for me. I shared a hotel room with two other young players from the Cathay table tennis team. Every morning we needed to get up early. At night we could only get to bed quite late because of the long schedules throughout the day. A crazy thing happened on the third day. The glass door that led to the bathroom in our hotel room completely shattered during the night. I was sound asleep, but my teammates woke abruptly to the loud sound of breaking glass. We called the front desk and told them of the situation. The staff offered for us to change rooms. Before they had the new room ready, we were led to rest in the lobby where I fell asleep. I was shaken awake at about midnight. Our room was ready, but the staff informed us that we would have to change back the next morning because the hotel was fully booked. Even though the news felt horrid, I didn't have much brain left to think of it. All three of us just said yes we would move back the next day and finally got to bed. Afterward, it was explained that it might have been too cold and air pressure could have caused the glass to break.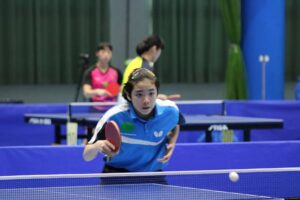 Throughout this competition, there was one player that caught my eye. She was only fourteen years old, yet she was able to beat players five to ten years older than her and make the adult team. She was a middle pips player. Her style was quite different than normal players. She depends a lot on her backhand pips defense. Because her blocks are very spinny, most people can only loop soft shots. When a weak shot is made, she turns to hit a forehand winner. She also has a variety of serves. Her best serve is her spinny top spins, as the ball comes really fast. When receiving, it's very easy to miss the best contact point. Using her unique style, she has taken down many titles. Making the adult team would definitely be her best accomplishment so far.
I didn't make the team this time, but did learn a lot. Even though I didn't meet my goal, I still beat five or six past junior national team members. Overall, I executed my techniques and strategies well. I am quite happy with my performance this time and am excited to bring what I've learned to the next.
Stay "In The Loop" with Butterfly professional table tennis equipment, table tennis news, table tennis technology, tournament results, and We Are Butterfly players, coaches, clubs and more.