Spin and Smash Table Tennis & Ping Pong Club | A Butterfly Sponsored Club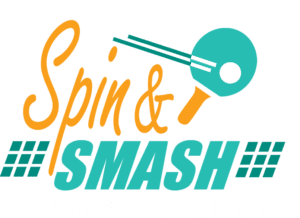 Columbus, OH
Spin and Smash Table Tennis & Ping Pong Club | A Butterfly Sponsored Club
Serious. Fun. A Place For Ping Pong and Table Tennis.
Welcome to central Ohio's newest venue for ping pong and table tennis. Spin & Smash is part ping pong social club and part table tennis training center. With 11 Butterfly Europa 25 tournament tables we have plenty of room for you to do either – have serious fun with friends to music (live on Saturday nights) or get serious about competition – with classes, clinics and private coaching. Either way you spin and smash it, we'll help you have fun and elevate your game. That's our mission.
The idea for a social club night began during a trip to NYC for our son's graduation from NYU. A visit to SPIN was eye opening.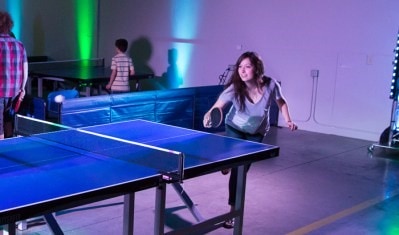 According to their website, ping pong is "… a sport that connects people regardless of age, gender or background. It's is about having fun, not taking life too seriously, making connections and embracing contradictions."
We totally agree. That's why every Saturday night from 7pm to 12am we'll be playing, dancing, singing, enjoying good music, having contests – you name it, we'll do it. We'll supply the blades (or you can) and the balls.
Here's how it works:
Drop in and play!
Adults $10, kids $5.
If you have three or more in your party,
it might be cheaper to pay $25 for a table.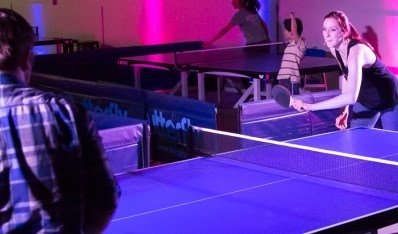 PING PONG or TABLE TENNIS?
ABOUT SPIN & SMASH
DROP IN & PLAY
CLINICS, PROGRAMS & FREE CLASSES
CALENDAR
MEMBERSHIP
COACHES & STAFF
CONTACT
Hours:
Monday – Thursdays: 10:00 AM – 10:00 PM
Friday: 10:00 AM – 12:00 AM
Saturday: 10:00 AM – 5:00 pm & 7:00 pm – 12:00 AM
Sunday:    1:00 PM – 9:00 PM
Contact US
Phone: (614)-889-8219
Location: 2192 Wilson Rd., Columbus, OH 43228