AceBounce Chicago
Chicago, Illinois
"The philosophy at Bounce is to exceed expectations in everything we do and to constantly innovate – it's not enough for us to just rely on how fun it is to play ping pong, we aim to create a totally new experience, a Bounce experience."
Adam Breeden, Founder and CEO of Bounce
Bounce is a ground-breaking social entertainment brand founded by Adam Breeden, entrepreneur, co-founder of Flight Club and former CEO and co-founder of All Star Lanes, and Dov Penzik, also a successful entrepreneur and former competitive table tennis player. The two founders conceptualized a vision, taking inspiration from the explosion of stylish table tennis social venues stateside and the huge resurgence of interest in the game within the UK.
Since its launch in 2012, the Bounce concept has been widely regarded by the industry as a game-changer in social entertainment venues, which combines three elements of hospitality: bar, restaurant and entertainment activity – all set against award-winning design and the highest standard to fit. Bounce is the world's leading concept to offer this immersive experience, taking the humble ping pong table from the back corner of a bar to become the main offering of the venue, while creating an intricately considered and currently unrivalled leisure experience.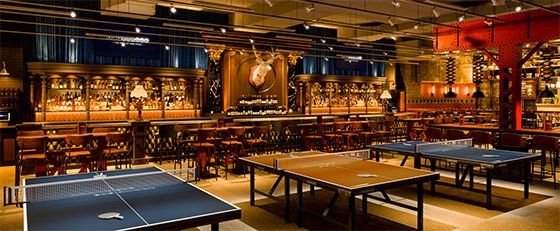 Bounce Farringdon, the flagship venue quickly established itself as one of London's most iconic and most talked about venues and has hosted games for Elle Macpherson, Gwyneth Paltrow & Kevin Spacey to name but a few.
Bounce Old Street officially opened its doors in October 2015.
AceBounce Chicago, the first of several planned US venues, launches this month, June 2016.
Ping Pong – Introducing 16 championship quality ping pong tables, (soon to include the 2016 Rio Olympic table!) PLUS one very special, deluxe beer pong table.
Visit AceBounce.com to learn about Advanced booking, Walk-in guests & How to book
Food & Bar – At the ping pong table or at your own dining table. Enjoy the top notch offerings from AceBounce's menu no matter what your visit entails. Groups can take advantage of private rooms for unforgettable events, ping pong players can grab bites in between serves and diners can take it all in from an elevated restaurant beside a world class kitchen. Reservations are encouraged but walk-ins are always welcome.
AceBounce Chicago Menus

1901 Restaurant Menu
Bar Menu

Private Events – Team events, celebrations, networking, conferencing, product launches, team building, away days, boardroom meetings, filming locations. You name it, we knock it out of the park.
AceBounce provides the ultimate events venue, perfectly positioned in downtown Chicago, with tailored spaces and custom options for all corporate, social and private requirements.
Event Inquiries: events@acebounce.com
Opening Times
Monday – Wednesday: 4pm – 12am
Thursday: 4pm – 1am
Friday & Saturday: 12pm – 1am
Sunday: 12pm – 11pm
Location: 230 N Clark, Corner of Wacker & Clark, Chicago, Illinois
Contact: 773-219-0900
Event Inquiries: events@acebounce.com