Hello Table Tennis Enthusiasts,
What an amazing start for LATTA & I in 2020!  Increased in various activities: memberships, private lesson students, Saturday 10am round robins, & 1 day visitor passes.  I have already placed an order to purchase 2 brand new Butterfly Europa tables.  Butterfly will ship as soon as they have the tables in stock.  We are continuing the BEAST MODE energy & effect at LATTA!  I've been in table tennis for 32 yrs and will continue to serve the table tennis community.  Again, thank you so much for all your support!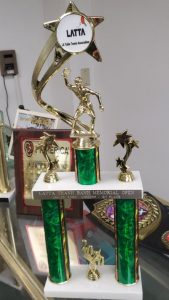 Big Congrats to our Champions from LATTA Open Dec. 19, 2019!!!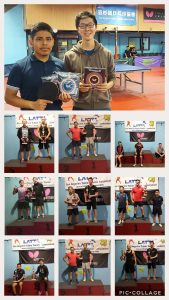 1st big picture
:  Recipients of complimentary Butterfly Tenergy rubbers for the longest & most consecutive tournament participant streak!  1) Misa Duran–from Jan 2018 to Dec. 2019, total of 22 tournaments!!! OMG 🙂 2) Dylan Ley–Dec. 2018 to Dec. 2019, total of 10 tournaments! I awarded Dylan too because he's a super nice guy.  Didn't want him to go Tenergy-less 🙂
LATTA THANH BANH MEMORIAL OPEN SAT, JAN. 25, 2020!!!
This tournament holds dear to me.  It is my Dad's 6th year memorial so as always, I will dedicate a tournament on his behalf every year.  Since this is a more meaningful tournament, I decided to change the trophy to a new style!  Our trophies are the BEST and BIGGEST compared to all other Clubs!  2 feet tall, made of real marble!!!   As always, 2 players advance from preliminary round robin in all events!  Singles events include U975RR, U1200RR, U1350RR, U1475RR, U1675RR, U1800RR, U1950RR, U2100RR, U2200RR & U2300RR!  PRIZE $$$ in events U1800 to U2225!
Free pizza lunch! The new and latest Butterfly white S40+ 3 star balls will be used.  Sponsored by Butterfly (Bowmar Sports www.butterflyonline.com)!  Register at www.omnipong.com now or call or text me at 626-927-8670!
SATURDAY WEEKLY ROUND ROBIN AT 10 AM!
Our RR's have been a major hit!  Plan on participating every Saturday except on a tournament day.  Very fun and friendly!  There are many players on different levels with different styles to play against!  See how you stack up against some of the best players in the area!  If you would like to play in a RR, please call or text me at (626) 927 – 8670, or email me at tawnybanh@yahoo.com.  Advance notice appreciated, but not required.  Just show up!  Only $6 for club members; $10 for non-members.
Jan. 11 U2000RR results (Total of 23 players!)
1st:   Chad Hutson
2nd:  Robert Chen
Your loyalty to LATTA is highly visible and deeply appreciated,
Tawny Banh
LATTA President
2004 & 2000 US Olympian
1994-2007 US National Team
Pan Am Games Gold/Silver/Bronze Medalist (7 Total)
3-Time US National Women's Doubles Champion
US & CA Table Tennis Hall of Fame Inductee (2014)
USATT West Region Tournament Sanctioning Coordinator
Address:
LATTA
10180 Valley Blvd.
El Monte, CA 91731
(behind El Monte Car Wash)