Never Alone – Chuang Chih-Yuan
Courtesy of Butterfly.tt
Every table tennis fan knows his name, his signature aggressive play with these incredibly fast legs. But what do we actually know about Chuang Chih-Yuan? Where did he start his career? The sympathetic Chuang has been in the Top 20 of the world for a decade, he deserves a closer look.
Humble beginnings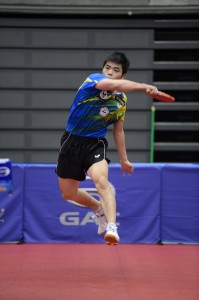 Chuang Chih-Yuan is a Table Tennis player born and raised in Taiwan. His birthday was in April 2th, 1981. And because his parents and older brother were all Table Tennis players, Chuang Chih-yuan naturally got into the same sport. He began to learn how to play Table Tennis at a young age and started competing  at the age of 8. Seeing the potential from their son, the parents decided to go all the way and invested their money and energy just so their beloved child will be able to maximise his potential. Unfortunately, because of Taiwan's limited resources, the family had to raise money by themselves for the training and competition costs of their son.
In 1993, Chuang Chih-yuan went to the capital of Table Tennis, China. This was definitely not an easy decision for the mother, Li Gumei, but there was no turning back. At that time, the Chuang family was not rich. They had to pull strings just for their son to have a place to train in China and eventually achieve higher heights in his craft. So imagine how difficult could it be for a foreign woman bringing her child to different places just to ask for opportunities to train. They have been to an unheated gymnasium in Harbin where they experienced a terrible temperature of -30 celsius degrees. While, in the summer, they encountered temperatures of 40° in Hubei, where they faced the dangers of dehydration. But the mother and son didn't give up.
Indeed, hard work always bear good fruit. In 1998, Chuang Chih-yuan was admitted into the National Team of Taiwan. A year after, he had his debut in the World Tour series. He reached the quarterfinals in both Singles and Doubles in the Austrian Open.  In 1999, Chuang Chih-yuan was sent to Germany to train and play at the same time. The hardships continued for both the mother and son. Due to limited funds, Chuang Chih-yuan found it hard to open up to his European teammates and became a loner. He also didn't have any assistant during competitions and training.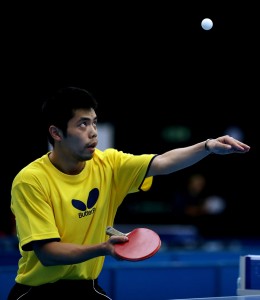 Chuang Chih-yuan knew his priorities and he seized his opportunities very well. From his hard work and determination, he raised his technical capacity to a whole new level. He achieved a special combination of Asia's speed and Europe's rotation, making it difficult for a lot of players to adapt to him. In the year 2002, Chuang Chih-yuan became very active in the international circuit and his trainings in Europe showed remarkable results. He reached the finals several times in the World Tour stations and also in the Asian Games, where he defeated Kong Linghui along the way. He lost to Wang Liqin in the finals. At the end of that year, he participated in the ITTF Grand Finals and after always falling short for the title, he aspired to finally clinch the championship title. His determination was strong enough so he could defeat Kong Linghui in the opening round of the main draw. He scored 4-3. In the quarterfinals, he defeated Jean-Michel Saive in six sets. After which, he faced another big challenge in the guise of Wang Hao. Yet again, he pulled off an amazing performance to the tune of 4-3, leading him to the finals. There he met the Austrian star Werner Schlager for the final match and he faced him with great courage.  Going through a full-stretch match, Chuang Chih-yuan finally achieved his first ever championship title in the Men's Singles of an international competition. He finally stood at the top of the podium at the end of the competition.
Winning the competition made a lot of people ask:
Who is Chuang Chih-yuan?
At that time, he was dubbed as one of the biggest threats of the Chinese Men's Team. At age 21, he was also considered to be the most promising player. He leaped in the January 2003 world rankings from 40 to 7. Due to the great potential Chuang Chih-yuan has shown, Taiwan authorities in Table Tennis had high praises for him. However, pride was not in Chuang Chih-yuan's vocabulary. He remained low-key despite his growing fans and the high praises.
"I was able to record a few victories against Ma Lin and Kong Linghui because the recent change in the gaming system (11-point system) tampered their advantage. Since I just started, my acceptance to such change was clearly faster. However, I believe that if they were able to adapt well with such change, they will be able to play out their real level."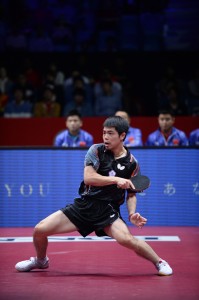 As for his ever supportive mother, Li Gumei acknowledged how hard his son worked. But she knowed that Chuang Chih-yuan still hadn't reached his full potential. "He still has a long way to go, like a mountain climbing. The last part of the journey is the hardest, the most difficult to climb. We do not have specific targets. Every success should be the start of another target." Li Gumei said. After a great season-ender in 2002, Chuang Chih-yuan wanted to continue his momentum into the 2003 World Championships. But he wasn't able to fully seize his opportunities. Against Joo Saehyuk, he was eliminated in the round of 16. He also played in the Doubles but lost to Chinese pair of Zhang Yu and Leung Chu Yan.
Chuang Chih-yuan continued to perform and gain experience in the international circuit but success seemed to be hard to achieve again. To date, he has gathered three Singles championship titles from the World Tour series: Brazil in 2003, Chile in 2011, and Spain in 2012. But in three world competitions, none yet.
The other memorable match for Chuang Chih-yuan, aside from the 2002 ITTF Grand Finals was the 2012 London Olympics bronze match against Dimitrij Ovtcharov of Germany. It was a perfect opportunity for the Taiwanese player to finally land a medal in a world competition. He was in a good condition and was actually close to winning the match. However, Chuang Chih-yuan had to settle as the fourth player after losing the match by 2-4 with just a 2-point difference in the sixth set.
The defeat was harsh and could be hard to accept . Fortunately, Chuang Chih-yuan had a very strong support system, his mother and family. Li Guimei was in the arena and was enthusiastic in cheering for his son. Despite the loss, Chuang Chih-yuan actually recorded his highest achievement in the Olympics. Aside from athletic performances, Chuang Chih-yuan had one more dream and that was to open up a Table Tennis stadium. In 2008, he realised his dream, making Table Tennis closer and accessible to the people of Taiwan. Through his most difficult years, Chuang Chih-yuan is still restless at age 34 and he alway remains close to the top 10 in the world rankings, if not inside the select group.
Through frustrations and satisfactions, ups and downs of life, and even if the glory has faded, the parents will always be proud of their children, and that is the kind of support Chuang Chih-yuan has from his family, especially his mother, who was his first coach. Because of that unconditional support he got from his parents, Chuang Chih-yuan was able to cope with the challenges. He fought battle after battle. When he wins, the whole family shares the joy. When he loses, they rise again together. Victory and defeat are just temporary but their love for their son is permanent.
Chuang Chih-Yuan plays Tenergy 64 2.1mm on forehand and backhand with a special-made Arylate-Carbon blade. 2014, Chuang shared a very special personal success by beating his long-time opponent Joo Saehyuk at the World Team table tennis championships. Watch this dramatic episode here: