Hello Table Tennis Enthusiasts,
LATTA OPEN SAT, MARCH 21, 2020 IS CANCELED DUE TO CORONAVIRUS!!!
Our Nation and the entire World is currently facing an unprecedented, unsettling & challenging time during this Coronavirus outbreak.  We, as a strong Nation, have never witnessed or experienced anything like this before! The situation is changing rapidly, and we must do our part to slow the spread of this very contagious virus.  Safety is of the utmost importance now.  Therefore, with a heavy heart, I sadly announce that LATTA will have to temporarily shut down effective, Wed., March 18.  Let's see how it goes until the end of March.
This unexpectedly hit all of us hard…..mentally, physically and financially.  As one LATTA Member stated:  TT is more than just a game to a lot of people.  It's a way to stay in touch and socialize with friends, meet new people, and form a strong sense of community."  Last but not least, we small business owners still have to pay for our club rent and all utilities during this "shut down."  Despite all, we must still remain calm, strong and not be xenophobic.  Please take comfort in realizing that the existing crisis is only temporary.  We must unite and fight this pandemic together!  LATTA will continue to monitor the situation as new developments emerge.  I'll send another update when we plan to open again.
Big Congrats to our Champions from LATTA Open Feb. 22, 2020!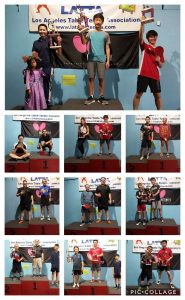 I wish you, your family & friends good health and safety!
Tawny Banh
LATTA President
2004 & 2000 US Olympian
1994-2007 US National Team
Pan Am Games Gold/Silver/Bronze Medalist (7 Total)
3-Time US National Women's Doubles Champion
US & CA Table Tennis Hall of Fame Inductee (2014)
USATT West Region Tournament Sanctioning Coordinator (2018 to Present)
Address:
LATTA
10180 Valley Blvd.
El Monte, CA 91731
(behind El Monte Car Wash)