(By LATTA)
Hello Table Tennis Enthusiasts,
Come join us at my next LATTA Open July 27th!  As always, 2 Players advance from preliminary round robin in all events!  Singles events include U1050RR, U1250RR, U1450RR, U1650RR, U1775RR, U1875RR, U2025, U2125RR, U2225RR!  PRIZE $$$ in events U1875 to U2225!  Trophies awarded in U1050 to U1775!  Our trophies are the BEST and BIGGEST compared to all other local Clubs!  2 feet tall, made of real marble!!!  Free pizza lunch!  Butterfly plastic S40+ 3 star ball  is the official ball…..sponsored by Butterfly (Bowmar Sports www.butterflyonline.com)!  Register at www.omnipong.com now or call or text me at 626-927-8670!
UNDER 2000 ROUND ROBIN EVERY SATURDAY AT 10:00 AM
We have Under 2000RR every Saturday, except on a tournament day.   The next one is July 20 and the ones following are on Sat., Aug. 3rd & after.  Play everyone in your group, about 7-12 matches at a low rate!  Fun, friendly, and a great learning experience!  Only $10 for non-LATTA members, $6 for LATTA members.  Give me your email address if you'd like to join our weekly RR distribution list.
July 13 U2000RR Results (Total of 20 Players):
1st:  Roger Gorani
2nd:  Judy Chan
Big Congrats to our Champions from LATTA Lee Rittenburg Memorial Open June 29, 2019!!!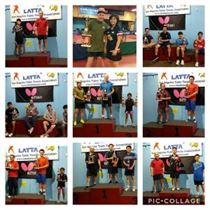 LATTA DAILY PLAY
If you want to improve your game, LATTA is the place to play!  We have various levels & style of play from our members.  15 professional tables with great lighting.   Open every day, even on major holidays!  Most players join us in the morning & evening on weekdays, and mornings to evenings on weekends.  Enjoy the fun of either singles or doubles play!    I'm proud to say that members have the luxury of playing for as long as they want.  No limited hours because Members are given the privilege to lock up at night!
Also, if you are new to the sport, have no fear, I'll pair you up with someone to play with.  Feel free to call or text me at 626-927-8670 for club inquiries, 1 on 1 private or group lessons, club schedule, equipment purchase, and facility rental for a party or tournament.
Your continued loyalty and support are greatly appreciated!
Tawny Banh
LATTA President
2004 & 2000 US Olympian
1994-2007 US National Team
Pan Am Games Gold/Silver/Bronze Medalist (7 Total)
3-Time US National Women's Doubles Champion
US & CA Table Tennis Hall of Fame Inductee (2014)
USATT West Region Tournament Sanctioning Coordinator
Address:
LATTA
10180 Valley Blvd.
El Monte, CA 91731
(behind El Monte Car Wash)