Big Congrats to our Champions from LATTA Open Sept. 28, 2019!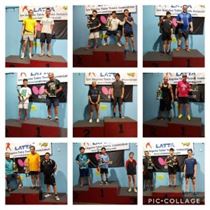 Hello Table Tennis Enthusiasts,
The holidays are creeping up!  Last year, I gained 5 pounds after so many back to back holiday dinners from Nov. to Jan. 1st!!!  So all you table tennis enthusiasts better play more to burn off unwanted holiday calories!
TABLE TENNIS ALERT!!! 
Let's get rolling and end 2019 with many fun and thrilling tournaments and open play at LATTA!  Let's pre-celebrate Halloween and be "spooky" against your opponents at the LATTA Open, on Sat. Oct. 19 (USATT Sanctioned Tournament)!  In November, we will be "thankful" for the LATTA Open on Sat, Nov. 23 (USATT Sanctioned Tournament) & LATTA Black Friday Giant Round Robin (RR) on Nov. 29 (USATT non-sanctioned, at least 6 players per RR group).    Then we will "jingle" together in December with the LATTA Open, Sat., Dec. 14!!!  1 lucky tournament player will receive 1 complimentary Butterfly Tenergy rubber (retail value $80) on Dec. 14, for being the most loyal LATTA tournament player with the longest participation!  Hooray!  The last person that won complimentary rubbers was Chris L'Heureux….joined 15 consecutive LATTA Tournaments!!!
Note:  Butterfly white S40+ 3 star balls will be used in all LATTA events, courtesy of Butterfly (Bowmar Sports, www.butterflyonline.com)!
I'm not done yet, you crazzzy TT fanatics!  Don't forget our Under 2000 round robins every Saturday at 10am (except on Tournament day).  Fun and friendly group of players!  Play everyone in your group, about 7-12 matches at a low rate!
Also, we still have our daily open play, 7 days a week!  Open on all major holidays too!  Release the work stress, escape from the nagging spouse or partner……and play til you drop! LOL 😉  We have many players joining us in the evening on weekdays, and afternoon to evenings on weekends.  Unlike other clubs, LATTA Members are given the privilege to play as long as they want & simply lock up themselves!
Sept. 21 U2000RR Results:
1st:    Khanh Tran
2nd:  Yude Chan
Your continued loyalty and support are greatly appreciated!
Tawny Banh
LATTA President
2004 & 2000 US Olympian
1994-2007 US National Team
Pan Am Games Gold/Silver/Bronze Medalist (7 Total)
3-Time US National Women's Doubles Champion
US & CA Table Tennis Hall of Fame Inductee (2014)
USATT West Region Tournament Sanctioning Coordinator
Address:
LATTA
10180 Valley Blvd.
El Monte, CA 91731
(behind El Monte Car Wash)