Hello Table Tennis Enthusiasts,
Covid-19 was such an unprecedented and difficult 2020 for countless people and small businesses!   What I have learnt is that people & unfortunate situations come and go in life, but Table Tennis is forever!  Pandemic or not, table tennis never leaves us!
From the bottom of my heart, THANK YOU Everyone for the continued support of LATTA during pandemic.   I specifically remember each and every one of you that were by my side last year.  I sincerely appreciate the continued paid memberships, all the financial donations, supporting my Saturday morning round robin, and the emotional support you have provided to LATTA and I during the difficult times. I've made new friendships with newer members & students while deepening my relationship with my old members & students.  The struggles we face in life only makes us more resilient & determined!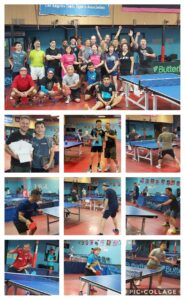 The show must go on, let's continue to pong!  LATTA has been opened daily, 7 am to about 11 pm, even on major holidays!  The peak times are from 3pm and after on weekdays and between 2pm to 7pm  on weekends.  We are hosting the upcoming events:
UNDER 2150 ROUND ROBIN, EVERY SATURDAY AT 10:10 AM
We have Under 2150RR every Saturday, except on a tournament day.   The next one is Sat., June 19.  Fun, friendly, and a great learning experience!  Play everyone in your group, about 7-12 matches at a low rate!  Only $10 for non-LATTA members, $6 for LATTA members.  Give me your email address if you'd like to join our weekly RR distribution list.
The past 2 months, we've been getting 28-32 competitive players!
June 12 U2150RR Results (Total of 32 Players)
1st:  Dylan Ley
2nd:  Huang Haijun
3rd:  Misa Duran & John King
LATTA BUTTERFLY OPEN:  SATURDAY, JUNE 26, 2021!!!
This USATT sanctioned tournament will be our first tournament back, since pandemic struck us in Feb. 2020!  So what are you waiting for, come join us!  Our trophies are the BEST and BIGGEST compared to all other Clubs!  2 feet tall, made of real marble!!!   As always, 2 players advance from preliminary round robin in all events!  Singles events include U1150, U1350RR, U1500RR, U1675RR, U1850R, U1950RR, U2050RR, U2200RR!  PRIZE $$$ in events U1675 to U2200!
Butterfly R40+ 3 star white balls, sponsored by Butterfly (Bowmar Sports)!  Please register our June tournament at https://omnipong.com or call or text me at 626-927-8670!
Thank you for the continued support,
Tawny Banh
LATTA President
2004 & 2000 US Olympian
1994-2007 US National Team
Pan Am Games Gold/Silver/Bronze Medalist (7 Total)
3-Time US National Women's Doubles Champion
US & CA Table Tennis Hall of Fame Inductee (2014)
USATT West Region Tournament Sanctioning Coordinator (2018 to Present)
Address:
LATTA
10180 Valley Blvd.
El Monte, CA 91731
(behind El Monte Car Wash)
626-927-8670
Stay "In The Loop" with Butterfly professional table tennis equipment, table tennis news, table tennis technology, tournament results, and We Are Butterfly players, coaches, clubs and more.