Steve Hopkins' PongNow Interview Series started on May 2nd.  There are now six posted interviews in the series and more coming soon.  As the intro notes, the purpose of the interview series is to discuss table tennis with some of the best players and personalities in the sport.  So far, those interviewed include Sean O'Neill, Dean Johnson, Adoni Maropis, Jim McQueen, Pete May, Derek May, Thomas Keinath, and Ernesto Ebuen.
The next interview, which will go live on Friday (6/5/2020), is with Dell Sweeris, Connie Sweeris, David Sakai, and Donna Sakai.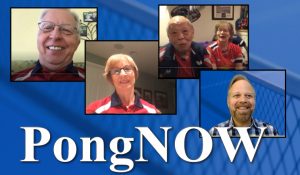 So far, the interviews have covered Olympic and Nationals stories with Sean O'Neill, have followed Dean Johnson through the golden era of table tennis in New York, have heard about acting and fitness with Adoni Maropis, have laughed with Boos Brothers, have heard about US Open Championships from Thomas Keinath, and have walked with Ernesto Ebuen through a tech-friendly club in New York.
If you've missed any of the interviews, you can catch up here:
In this edition we have, former Filipino champion, Ernesto Ebuen. Since moving to the US, Ernesto has logged one table tennis success after another: launching clubs, coaching a national champion, coaching a national team…
________________________
PongNOW Interview are powered by Butterfly.  Comment on videos via twitter @PONGNOW.  YouTube users can Subscribe to receive notices when future PongNow videos are uploaded.